MILESAGO - Features
Robert Lloyd
Robert Lloyd (Bob Lloyd, aka Bob Tregilgus) is a former member of seminal Melbourne pop-soul band

Cam-Pact. Now an established composer, Robert presents a program of his own music at the Sydney Opera House on Sunday Sept. 2, 2001.
From The Sydney Morning Herald, Fri Aug. 31, 2001
New music leaves secret club behind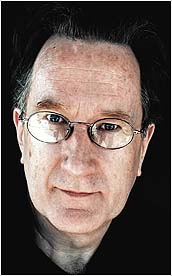 Involving ... Robert Lloyd
By Alexa Moses
When contemporary composer Robert Lloyd plays from the Opera House stage on Sunday with German duo Trio a Due, the audience will not be hearing what colleague Philip Glass has termed "creepy music".
"I don't write music that's unlistenable," Lloyd explains. "In the seventies I went through that period, a case of been-there done-that."
Instead, Lloyd likes to write accessible music which he describes as "listenable, tonal ... written to be quite drivey, often for dance companies".
Lloyd has spent the past 30 years writing and playing contemporary classical or new music, both for concert performance and dance groups such as New York's Joyce Theatre. He is also a TAFE teacher.
Offering a range of sounds, from Balinese gamelan to American minimalism , he most loves the "nurturing" quality of his music.
"In traditional cultures music is always connected to singing, dancing, ritual, religious experience. When music is separated out of that it becomes a kind of a Masonic lodge ... with a small number of people listening to some extremely well played piece of difficult music." Lloyd punches out the word "difficult".
"In Australia the new music scene has been railroaded to some degree by a kind of elitism."
The general manager of the Australian Music Centre, John Davis, describes Lloyd's style as "bright, fresh and very communicative", but begs to differ. He feels that contemporary classical music needs to address abstract and intellectual values as emotional and physical ones.
"It's like food: eating the same thing over and over again gets boring ... Part of the reason why contemporary music's challenging is that a lot of people have not learned how to listen."
He says there's a trend toward making contemporary classical music easier to listen to, which may create its own elitism. "In Australia we have an ethos for diversity and eclecticism. Otherwise we arrive at some kind of fundamentalism which says, 'this is the only way'."
While Robert Lloyd admits that you "can't rubbish all" less accessible new music, in the end he prefers to communicate to a larger audience. "I think a lot of what's out there at the moment doesn't nurture people. It pushes them down rather than lifts them up. At the end of a concert I want to think 'wow, I'm glad I'm on the planet'."
Robert Lloyd plays a one-off concert with Trio a Due at The Studio, Sydney Opera House, on Sunday at 5pm.
http://www.smh.com.au/news/0108/31/entertainment/entertain8.html