"Fuzzy Memories"
Hits of yesteryear that the "Hits and Memories" stations seem to have forgotten ...
"Bottle of Wine" by The Fireballs (Atco, 1967) -- #3 Australian hit, Feb. 1968
American rock'n'roll band The Fireballs -- sometimes billed as Jimmy Gilmer & The Fireballs -- were very popular in the late 1950s and early 1960s, and scored several US hits, although their popularity waned during the Beatlemania years. After a five year absence from the charts, they scored a surprise comeback in early 1968 with the single "Bottle of Wine", which was a Top Ten hit for them in both America and Australia.

Formed in Raton, New Mexico, the original 1958 lineup was George Tomsco (lead guitar), Chuck Tharp (vocals), Stan Lark (bass), Eric Budd (drums), and Dan Trammell (rhythm guitar). The Fireballs start out as an instrumental group, featuring the distinctive lead guitar of Tomsco, and they recorded at Norman Petty's studio in Clovis, New Mexico, where Buddy Holly had previously launched his career. They made the US Top 40 with the singles "Torquay" in 1959 and "Bulldog" in 1960. Tharp, Budd & Trammell left the group in the early '60s, to be replaced by Doug Roberts (drums) and Petty Studio solo vocalist-pianist Jimmy Gilmer, who became the lead singer.

Now billed as Jimmy Gilmer & The Fireballs, the group scored a #1 hit on the Billboard chart with "Sugar Shack", which remained at top position for five weeks in 1963. It also reached #1 on Billboard's R&B chart for one week in November of that year, but its run on that chart was cut short because Billboard suspended publication of its R&B chart from November 30, 1963 to January 23, 1965. Nonetheless, "Sugar Shack" earned the group an RIAA Gold Record Award for the top-sellng single 1963. Jimmy Gilmer & The Fireballs had another pop hit in 1964 with a similar sounding "Daisy Petal Pickin'", which reached #15 on the Hot 100.
Besides their own recordings, Petty recruited the Fireballs as studio musicians for other recording artist projects including folk singer Carolyn Hester and renowned vocalist and songwriter Arthur Alexander, and Petty also used the group to add instrumental backings to the Buddy Holly "apartment tapes", which had surfaced after his death.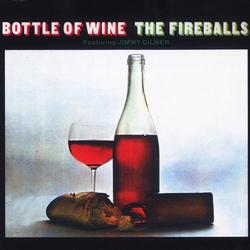 The Beatles scored their first US hits during the chart run of "Daisy Petal Pickin' " and soon -- like so many other American acts -- The Fireballs were soon finding it difficult to compete against the 'British Invasion'. The Fireballs had no chart success for the next five years, but in 1967 they signed with Atlantic's subsidiary Atco. The first single for their new label was a rollicking version of "Bottle of Wine" (written by Tom Paxton) which went to #9 on the Billboard Hot 100.
"Bottle of Wine" was an even bigger hit in Australia. It debuted at #27 on the Go-Set national chart in the first week of February 1968, shot into the Top 5 in just four weeks, and hovered there for over a month, peaking at #3, and charting for a total of 13 weeks. This was no mean feat, given that the song was competing with hits such as Paul Mauriat's "Love is Blue", Johnny Farnham's "Sadie", The Small Faces' "Tin Soldier", The Monkees' "Daydream Believer" and The Beatles "I Am The Walrus" / "Hello Goodbye". Although Gilmer was still a member of the group, the band was billed simply as "The Fireballs" on this single.
The Fireballs next single, "Goin' Away" was a notable early excursion into country-rock, and it reportedly gained some airplay in Sydney, although it was a radical departure from the raucous party style of "Bottle of Wine". They reportedly also scored a minor hit in Perth with their third Atco single, the excellent psych-tinged acoustic rocker "Come On, React", released in late 1968.

Gilmer left in 1969 to pursue artist management and record production in Nashville. Drummer Doug Roberts died in 1981. All of The Fireballs material has been reissued on Ace Records (UK) and Sundazed labels. The Fireballs continued performing with original members George Tomsco, Stan Lark and Chuck Tharp until Tharp's death (from cancer) in 2006. Jimmy Gilmer has returned occasionally as lead vocalist and this lineup continues to perform, as of 2007.

Sources: Wikipedia / Go-Set Australian charts / Fireballs official website.
Thanks to Frank Calabrese, John Gambrill and Brian Last for additional information.