JEFF PHILLIPS
Perth/Melbourne, 1960s-1970s
Adapted from the Wikipedia article created by Terry Stacey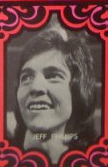 Jeff Phillips gained national renown in the early Seventies as the host of the 0-10 Network's weekly Saturday-morning pop show Happening '71 / Happening '72, but he also had parallel career as a popular singer and recording artist. Although not well-known for his songwriting, Jeff composed several songs that appeared on his various singles, and although national chart success eluded him after his first hit in 1968, he had a remarkably long recording career, with nineteen singles issued on various labels between 1968 and 1981.
Originally from Perth, Western Australia, Jeff first came to public attention in his home state when he took over from Johnny Young as compere of Perth TV pop show, Club 17 in 1966. After moving to Melbourne ca. 1967, he signed with the Festival label for whom he recorded three singles, and he made appearances on TV pop shows like Uptight. Jeff's only hit was his 1968 debut single, a cover version of The Shirelles hit "Baby It's You", which charted wellin Melbourne and in Brisbane, and made a single appearance at #34 on the Go-Set national Top 40 made the lower reaches of the Go-Set Top 40.
In 1970 Jeff was given his own shortlived ABC-TV pop show, Sounds Like Us, and he won the coveted George Wallace Memorial Award for Best New Talent at the 1970 TV Week Logie Awards. In 1971 he took over from Ross D. Wyllie as host of the popular Saturday morning pop music show Happening '71 and continued with the show (which was renamed Happening '72 the next year) until it was cancelled at the end of 1972.
Following Happening's demise he moved to the UK where he was based for several years. During this time he released a number of singles, including a version of the John Paul Young, hit "Yesterday's Hero" and became a regular act at the famous Speakeasy Club. He then went on to achieve some success in the British variety field on TV Shows such as The Rolf Harris Show and Seaside Special.
In the late 1970s Jeff re-located to Los Angeles for a time. He returned to Australia in 1985 and appeared in the Australian production of Cats with Debra Byrne and on the Australian cast album. He then moved into the club circuit. He was a minor but regular TVW Channel 7 personality, doing Cliff Richard material on the Tonight show. Jeff made a comeback as a TV host in 1991 on the Ten Network TV talent show Star Search.
Discography
Singles
1968 (Festival FK-2657)
"Baby It's You" (M. David-B. Williams-B. Bacharach) / "I Want To Meet Her" (Randazzo-Weinstein-Stollman)
Go-Set #34 (1 week), Melbourne #21, Brisbane #11

1969 (Festival FK-2864)
"Everything I touch turns to tears" (G. Geld-P. Udell) / "I'm comin' home Cindy" (T. Lopez-P. Zeller)

1970 (Festival FK-3574)
"Wrong or Right" / "I'm In Love With You"

1970 (Generation)
"I Want To Be Famous Like My Dad" / "A Love Of Your Kind"

1971 (Generation GE-003)
"Movement Of Love" / ?

1972 (Havoc)
"Gloria" / "Come Go With Me"

1973 (WWA)
"I'll Never Fall in Love Again" / "Billy Bullfrog"

1974 (United Artists)
"Shake A Hand" / "Watch My Baby Rock 'n Roll"

1975
"Yesterday's Hero" / "On The Road Again"

1976 (as Jeff Phillips and Tigerwing)
"Superman (I Want To Make You Love Me)" / "The Other Side"

1976
"Crying In The Middle Of The Night" / ?

1977 (NEMS)
Here You Come Again / Lone Dancer -

1978 (RCA Victor UK)
Jojo / I'll Be There

1977
Let Your Love Go / Saturday

1978 (RCA UK)
Rock Me Slowly / Saturday

1979? (NEMS)
Somebody's Stolen My Thunder" / ?

1981 (Astor A-7309) - as Jeff Philliips and Heaven
"L.A. Reggae" / "Just Another Pretty Face"

1981 (RCA)
"Desire" / "Sleep With The Angels"
EP
1968 (Festival FX-11585)
The Wonderful World of Jeff Phillips
"Baby It's You" / "I Want To Meet Her" // "What a Wonderful World" / "By The Time I Get To Phoenix"
Video
Jeff Phillips on YouTube:

"Wonderful World" from Uptight, 1969
http://www.youtube.com/watch?v=DLPYPK6Q5jM
"Everything I Touch Turns To Tears" (probably from Sounds Like Us, ABC-TV, 1970)
http://www.youtube.com/watch?v=rIvv-HZSYpQ
References / Links
Wikipedia - Jeff Phillips

Ross Laird / Screensound
The Sixties: Australian Rock & Pop Recordings 1964-1969

Vernon Joyson
Dreams, Fantasies & Nightmares: Australia (Borderline Books, 1999)
Ian McFarlane
Encyclopedia of Australian Rock & Pop (Allen & Unwin, 1999)
Noel McGrath
Australian Encyclopedia of Rock (Outback Press, 1978)
Chris Spencer, Zbig Nowara & Paul McHenry
Who's Who of Australian Rock (Five Mile Press, 2002)
K-Tel Blogspot (includes links for MP3 downloads of 20 Chartstoppers Vol. 1 and Vol.2)
http://kay-tel.blogspot.com/2007_12_01_archive.html