TED MULRY / THE TED MULRY GANG

The Ted Mulry Gang (TMG)


Ted Mulry (bass, vocals)
Les Hall (lead guitar, vocals)
Gary Dennis (rhythm guitar vocals)
Herman Kovacs (drums)
History
Ted Mulry wasn't a prodigy or a prima donna but he was a true professional -- a talented, hardworking songwriter, bassist, singer, and producer, a great entertainer, a dedicated family man and one of the nicest blokes in the business. He was and still is without question one of the best-loved rock performers of his time in his adopted home country, and he has a special place in the hearts of a generation of Aussie music fans.
Ted first came to prominence in the early 1970s as a solo singer-songwriter, scoring a couple of hits with sweet love ballads, but this early burst of success quickly faded. After a couple of years of hard slog, including a brief and unsuccessful stint back in his native UK, he burst back onto the Australian pop scene in late 1975 as the lead singer and bassist of Countdown faves The Ted Mulry Gang, who shot to fame with their national #1 debut hit "Jump In My Car" and went on to achieve a remarkable string of Australian hits albums and singles over the next four years. Although he left us far too early, Ted has bequeathed us a legacy of some great pop-rock recordings, and TMG provided memories of a great night out for countless thousands all over Australia who bopped along to their good-time rock'n'roll.
Born in Oldham, England in 1951, Edward Mulry emigrated to Australia in 1969 and took a job driving a bulldozer for the NSW Department of Main Roads. The amateur musician had already developed an interest in songwriting and his budding talent impressed friends and workmates, who encouraged him to take his songs to venerable Aussie music publishing firm J. Albert and Son, for whom Ted recorded a batch of demos of his original material.

Ted's first break came thanks to veteran EMI Records A&R man Tony Geary, who had worked closely with independent producer Ted Albert (the heir to the Albert empire and founder of Albert Productions) during the heyday of The Easybeats. Geary heard some of Mulry's demo recordings and was impressed, so he offered Ted the chance to record one of his songs for a single release.
Ted hadn't considered becoming a recording artist himself and it reportedly took a good deal of persuasion, but this was the era of the sensitive singer-songwriter (Carole King, Elton John, James Taylor, Jackson Browne et al) and Ted was eventually convinced to record a couple of his songs himself. EMI were pleased with the results and Ted's charming original "Julia" (b/w "So Much In Love") became his first single, issued on the Parlophone label in Feb. 1970. It was a minor hit in Sydney in mid-1970 and established Ted's credentials as a singer-songwriter with a flair for well-crafted melodic pop songs.
Mulry then signed a recording deal with Albert Productions, which Ted Albert had recently reactivated, and his next single became the inaugural release on the new Albert Productions label, which was pressed and distributed by EMI. The A-side of the new single was the gloriously syrupy "Falling In Love Again", a song written for Ted by former Easybeats Harry Vanda and George Young. It became Ted's first national hit, peaking #11 and charting for an impressive 25 weeks. It was followed in September by his debut album, also titled Falling In Love Again. The LP combined several of Ted's originals with tried-and-tested singer-songwriter standards like Joni Mitchell's "The Circle Game", Paul Simon's "Homeward Bound" and The Beatles' "Let It Be". Ted's third single "Marsha" was a minor hit in some areas but didn't get into the national charts, so he returned to the UK where he secured a recording contract with Blue Mountain Records, a subsidiary of Island, for whom he cut one single under the pseudonym Steve Ryder.
Ted returned to Australia in February 1972. In June his profile moved up another notch when Sherbet scored a breakthrough hit with their version of Ted's song, "You're All Woman". Ted and the Sherbet boys became fast friends and Sherbet and TMG shared bills and toured together for years.
In Feb. 1973 Ted released his excellent second album I Won't Look Back, which was the first LP for the Albert Productions label. It's a impressive and accomplished LP that deserved a better run than it got at the time and is still sadly overlooked today. Recorded at Armstrong's in Melbourne, the LP features an all-star cast of Aussie rock greats -- Phil Manning and Billy Green on guitars, Carson's John Capek on keyboards, bassist extraordinaire Barry 'Big Goose' Sullivan from Chain/Renee Geyer Band, and Bootleg Family/Avalanche drummer (and now TV host) Geoff 'Coxy' Cox -- embellished by some fine arrangements by Geoff Hales. It is certainly one of Ted Albert's best productions, and legendary engineer Roger Savage captures the classic early '70s Armstrong's sound.
Alberts obviously had faith in Ted's talent -- all but two of the songs on I Won't Look Back ("Pasadena" and the power-ballad "Ain't It Nice") are originals by Ted, and there are some very strong tracks among them. The rocking title track is a clear pointer to Ted's future direction and boasts the added attraction of an what may be a unique teaming of Oz guitar gods -- Billy Green, Phil Manning and Ross Hannaford. Other highlights include Ted's own great version of "You're All Woman", and a superb remake of "Made To Love You", from the first LP. There's also a rendition of the Vanda-Young-David Hemming song "Pasadena", which had been the breakthrough hit for Alberts labelmate John Paul Young, who had recorded it the previous year.
The album is divided into a 'rock' side and a 'ballad' side. This demonstrated that while Ted was a pretty good ballad singer, his real forte was rock. The softer material on Side 2 isn't all that well suited to his voice and range -- "Pasadena" is frankly pretty weak, and markedly inferior to the JPY version -- but the rockier songs on Side 1 showed off the power and gritty edge in Ted's voice to great effect, and demonstrated that he could write great commercial pop-rock material. There are some fine performances across the album with solid backing by a great lineup of Aussie musos, and the production is enhanced with some tasty orchestral arrangements by Geoff Hales. I support Mick Robbins' assertion that Ted's second solo album is in fact "pretty bloody good":
"I Won't Look Back was a transitional album for Ted after his ballad hits like 'Falling In Love Again', 'Julia' & 'Memories' but before the boogie-rock of TMG. On this album Side One really rocks and he's backed by an all-star band including Phil Manning and Billy Green on guitars, Carson's John Capek on keyboards, bassist extraordinaire Barry 'Big Goose' Sullivan from Chain/Renee Geyer Band, and Bootleg Family/Avalanche drummer (and now TV host) Geoff 'Coxy' Cox. The title track also sees Phil and Billy joined by another ace guitarist, Daddy Cool's Ross Hannaford for a great eight-minute guitar workout. Needless to say, even though the Gang were a great party band, musically this outfit wins hands down."

"Though there were no hits for Ted on here, this album includes his version of "You're All Woman", the song that he wrote for Sherbet who of course scored a big hit with it. Apart from Sherbet, other bands mined the album for singles also. Mr George had their only hit with their version of "So Much Love In My Heart" & Hot Cottage covered "Made To Love You", but this was not successful Other than the title track, for his own singles Ted issued the Vanda & Young written "Ain't It Nice" that he recorded in the UK as Steve Ryder, however it was not a hit here or there ... "
Over several years of gigging, Ted grew tired of the hit-or-miss practice of picking up local backing bands wherever he was playing, and during the latter half of 1972 he began using a regular backing group, consisting of members of ex Newcastle band Velvet Underground, who had been plying their trade on the Sydney dance circuit. They hooked up with Ted not long after their guitarist Malcolm Young had quit to form his own band, an obscure outfit called AC/DC.
This prototype version of TMG -- Mulry, drummer Herm Kovacs, guitarist Les Hall and bassist Steve Hart -- appeared on GTK during 1973 to promote Ted's new LP, playing "You're All Woman", and this performance is of added interest to Mulry fans because it's thought be the only recorded example of Ted playing lead guitar (which he actually handles pretty well). The audio recording was later included on The GTK Tapes Vol. 1 and fortunately the video of the performance survives in the ABC archives.
At a fateful gig during 1974 bassist Steve Hart had a 'meltdown', threw down his bass and stormed off stage, so Ted picked up the instrument and completed the rest of the show on vocals and bass. The combination clicked, and Ted was soon playing bass full-time; later in the year the trio was officially renamed The Ted Mulry Gang. Drawing on Ted's earlier connections, The Gang managed to snare a contract with with Albert Productions and they recorded their first LP Here We Are in late 1974. Just prior to its release in November 1974, they added rhythm guitarist Gary Dixon (ex Fat Harry), returning the lineup to the classic quartet format, although his recruitment came too late for his face to be included in the LP cover artwork -- a fact for which Dixon is probably eternally grateful, since Here We Are must surely rate as one of the most spectacularly awful album covers of all time.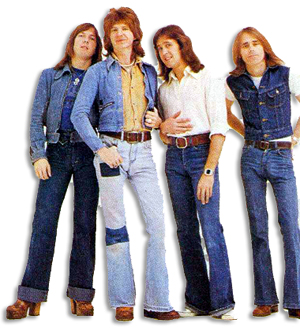 Here We Are sold only moderately and the first single lifted from it, "Sunday Evenings" (March 1975), failed to make any impression, so a Sydney radio personality suggested that they release another track from the album -- Ted's cheeky 12-bar boogie novelty rocker "Jump In My Car". After some initial resistance, Alberts eventually agreed and they finally issued it as a single in September. Wisely, they also made a simple film-clip to promote it and this was immediately picked up by the nationally-televised TV pop shows Countdown and Sounds, which were now exerting a major influence on the direction of Australian pop. Within a month "Jump In My Car" had sailed to the top of the national charts, where it stayed for six weeks, eventually selling a whopping 80,000 copies.

TMG's combination of no-frills, good time music, great live performances and their ebullient stage presence (they were often compared to The Faces) won them legions of fans, and by the end of 1976 The Ted Mulry Gang was one of the most popular bands in the country. Their first single for 1976 was a rocked-up version of the 1917 jazz classic "The Dark Town Strutters Ball", which was another major hit, peaking at #3 in February. At this point TMG took over the production reins from Ted Albert and all the subsequent TMG recordings were self-produced.

The hits kept coming through 1976 with "Crazy" (#13, May 1976) and "Steppin' Out" (#25 in November). They also pumped out two more LPs during the year, both of which did very well -- Struttin' was a big hit, peaking at #9 on the album chart in June and the third TMG album Steppin' Out reached #24 in November; during the year Alberts also released a four-track live EP, Live On Tour, an unusual step for the time since the EP format was by then virtually defunct. Alberts also released The TMG Book, an illustrated songbook that included text by Michele De Havilland and photographs by Colin Stead.

The band worked relentlessly through 1976 and 1977, often performing with old mates Sherbet, and undertaking some of the most extensive tours yet mounted. These took them to far-flung regional towns that were rarely visited by major bands, a fact that further endeared them to their loyal fanbase. They scored their fifth consecutive hit single with the calypso-styled "Jamaica Rum" (#22) in March 1977, but this was to be their last release for Alberts.

In April 1977, following the expiration of their Albert Productions contract, TMG signed with Michael Gudinski's Mushroom label and began recording their fourth LP. The TMG Album came out in June 1977 and it was another good seller, peaking at #24. Their first Mushroom single "My Little Girl" gave TMG their third major national hit, peaking at #10 in June, and the follow-up "Sha La La La Lee / Naturally" (the A-side was a cover of the 1965 Small Faces hit) also charted well, peaking at #25 in September 1977.

In March Alberts released a "Best Of" LP that combined solo tracks by Ted and the more recent TMG hits. In April 1978 TMG set off on a marathon three-month national tour to promote their new studio LP Disturbing The Peace, which was released that month, and although it didn't make the national album charts, two of the three singles lifted from it did become hits -- "Lazy Eyes" reached #21 in May and their cover "Heart Of Stone" made #20. Although these proved to be their last national hits, they gave TMG the enviable distinction of a having achieved nine national hit singles in a row. At the end of the year the group signed an American deal with the Atlantic label and their records were also released in New Zealand, South Africa, Canada, New Guinea and South East Asia.

Although TMG never managed to get back into the charts again, they remained consistently popular and continued to perform on the pub circuit to the end of the decade. In 1979 Mushroom released the band's first full live LP, TMG Live, which included the live version of the ribald classic "Dinah", one of their long-standing stage favourites. This was followed in 1980 by what proved to be the last TMG album, the Eddie Leonetti produced Locked In, which generated three singles -- "Save Me" (Feb.), "Can't Take It All" (May) and "Captured" (Sept.), none of which made the charts. TMG finally broke up in 1981, but as Ian McFarlane notes, their place in Australian pop history was by then assured.

In August 1981 Ted released a special one-off single "Take A Look Inside" / "Children", which was credited to Ted Mulry & Friends; the songs were written by Les Gock (ex Hush) and released to mark and promote the International Year of Disabled Persons. In 1989 TMG got back together to record the album

Re-Union

, which produced one single, "Old Habits", released in 1990. After the initial breakup of TMG, Herm Kovacs set up his own studio in Newcastle, recording and producing groups including Tall Stories, which featured his brother Hank. In 1992 he set up Ramrod Studios in Sydney, which continues in operation today.

Ted also moved into production; his credits include the 1990 10" mini-album

Sarah's Not Falling In Love

by ex-Canberra band The Plunderers, which included Tim Freedman and the late Tony Hayes (aka Stevie Plunder), who subsequently formed The Whitlams. In 1999 Ted released his first new recordings in a decade on the album

This Time

, comprising eleven original songs by Ted and a collaboration with his younger brother Steve, who is also an excellent singer and writer. The CD was recorded at Herm's studio and the backing group included Mark Punch (guitar), Sam McNally (keys) and Paul De Marco (drums).

Only two years later, in February 2001, Ted stunned friends and fans when he revealed that he was suffering from terminal brain cancer. Like so many of his contemporaries, Ted had little to show financially for his many years as a star performer, but his legion of friends in the industry rallied round him and put together what proved to be one of the defining moments of Australian rock, the now-legendary "Gimme Ted" benefit concerts.

Held over two nights at Fox Studios in Sydney in March 2001, the 'Gimme Ted' shows demonstrated the universal love and respect that Ted commanded, and they brought together some of the biggest names in Australian music including Sherbet, Ross Wilson, Russell Morris, Kevin Borich, The Angels, Tim Freedman, The Masters Apprentices, Richard Clapton, Ian Moss, Jon Stevens, The Chris Taylor Band, Marty Rhone, John Paul Young and Billy Thorpe, with comperes Glenn A. Baker, Donnie Sutherland and Ray Burgess, and a special appearance by Steve Mulry with TMG. Sadly, the benefit was to be Ted's last public appearance, but the ailing star watched with pride and joy from the wings as a generation of Australia's finest performers did him proud and said "thanks". A year later the surviving members of TMG reunited for the last time, with Steve Mulry fronting the band, and they performed rousing renditions of "Jump In My Car" at the tour's 18 sold-out concerts around Australia.

"Jump In My Car" remains Ted's best known song and an OzRock classic. Over the years it has been covered by many performers including a successful version by renowned UK guitarist Chris Spedding in the late '70s; it's also been covered by Sydney band Fester Fanatics and even Men At Work. While visiting Australia in January 2006, Baywatch star David Hasselhoff recorded a new version, produced by Harry Vanda. This was subsequently released in the UK and went to #3 in the charts there in October 2006.

Discography

Unfortunately, Ted's recorded legacy is rather poorly served by his former labels at present (2008). Ted Mulry and TMG tracks have been included on many anthologies over the years, and some of the Albert albums were re-issued on CD but none are currently in print, as far as we know. There is no comprehensive anthology, not even a decent "Best Of' package of the Albert Productions recordings, which is a great shame considering the many hits they provided for the label.

The liquidation of Festival Mushroom Records in 2005 and the subsequent sale of its recording archive to the Warner Music group has placed the Mushroom era material in limbo, a fate it shares with so many other great Australian recordings made by those two companies over the last 50 years. To date only a handful of FMR titles have been reissued on CD by Warner -- a series of Split Enz re-releases by Warner, and several cult titles released under licence, such as Khavas Jute's Wide Open, which was re-released by Aztec Music. It is hoped that sum of this material will re-emerge from the Warner vaults in the future

Original Ted Mulry and TMG vinyl releases are becoming increasingly valuable. TMG items advertised for sale on the Redeye Records website in June 2008 included a radio special disc promoting the Disturbing The Peace LP, listed at AU$120, the TMG singles "Lazy Eyes" (AU$22), "Darktown Strutters Ball" (AU$38) and Ted's solo single "Ain't It Nice" (AU$38). One of the most valuable TMG items is a rare 7" promotional flexi-disc featuring TMG performing the famous Aeroplane Jelly jingle, valued at AU$185.

Singles

Ted Mulry solo:

Feb. 1970 (Parlophone A-9057)
"Julia" / "So Much In Love"
Produced by Tony Geary

Feb. 1971 (Albert Productions AP-9338)
"Falling in Love Again" / "Louisa"
"An Albert Production" (Ted Albert)


Aug. 1971 (Albert Productions AP-9605)
"Marcia" / "I Love You"

Nov. 1971 (Albert Productions AP-9723)
"Memories" / "Remember Me"
#30, Feb. 1972


May 1972 (Albert Productions AP-9911) - credited to "Steve Ryder"
"Ain't It Nice" / "If You Should Ever Change Your Mind"
Also released on Blue Mountain Records UK


Oct. 1972 (Albert Productions AP-10023)
"I Won't Look Back" / "Just Another Day"

Aug. 1981 (Albert Productions AP-528) credited to Ted Mulry & Friends
"Take A Look Inside" (Les Gock) / "Children" (Les Gock)
Produced by Sleeman, Gock and Whitaker in collaboration with the NSW Steering Committee of the International Year of Disabled Persons



---
The Ted Mulry Gang/TMG:
Mar. 1975 (Albert Productions)
"Sunday Evenings" / "Here We Are"
Produced by Ted Albert
Sep. 1975 (Albert Productions AP-10830)
"Jump in My Car" / "I'm On Fire"
Produced by Ted Albert; recorded at Albert Studios, Sydney
National #1, 6 weeks / #2 Sydney, #1 Melbourne, #1 Brisbane, #1 Adelaide
Feb. 1976 (Albert Productions AP-11004)
"The Darktown Strutters Ball" / "She's For Me"
Produced by Ted Albert; recorded at Albert Studios, Sydney
#2 Sydney #2 Melbourne #2 Brisbane #4 Adelaide #3 Perth -
National #3
Jun. 1976 (Albert Productions AP-11118)
"Crazy" / "Help Me Out"
Produced by Ted Mulry Gang
#13
Oct. 1976 (Albert Productions AP-11241)
"Steppin' Out" / "It's All Over Now"
Produced by Ted Mulry Gang
#20
Jan. 1977 (Albert Productions AP-11305)
"Jamaica Rum" / "Wanted Man"
Produced by TMG
#22
May 1977 (Mushroom K-6811)
"My Little Girl" / "You've Got It"
Produced by TMG; recorded at Trafalgar Studios, Sydney
#10
Sep. 1977 (Mushroom K-6898)
"Sha La La Lee" / "Naturally"
#25
Mar. 1978 (Mushroom K-7070)
"Lazy Eyes" / Set Me Free
#21
July 1978 (Mushroom K-7180)
"Heart of Stone" / I Miss You
#20
Nov. 1978 (Mushroom K-7315)
"You've Got the Devil in You" / "Disturbing the Peace"
1990 (Albert Productions)
"Old Habits" / "Rock'n'Roll"
EPs
Ted Mulry solo:
1970 (Albert Productions APEP-1001)
Julia
with The Ted Mulry Gang:
1976 (Albert Productions APEP-1002)
Live on Tour
A1 I'm Free A2 Goodbye B1 Crazy B2 Darktown Strutters Ball
Albums
Ted Mulry solo:
Sept. 1971 (Albert Productions APLP-001)
Falling in Love Again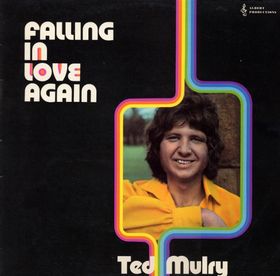 Side 1
1. "Falling in Love Again"
2. "Both Sides Now"
3. "He's Still Your Man"
4. "Homeward Bound"
5. "Let it Be"
6. "Julia"

Side 2
1. "Memories"
2. "Remember Me"
3. "Louisa"
4. "Chicago"
5. "Back To You"
6. "So Much In Love"


---
Feb. 1973 (Albert Productions APLP-003)
I Won't Look Back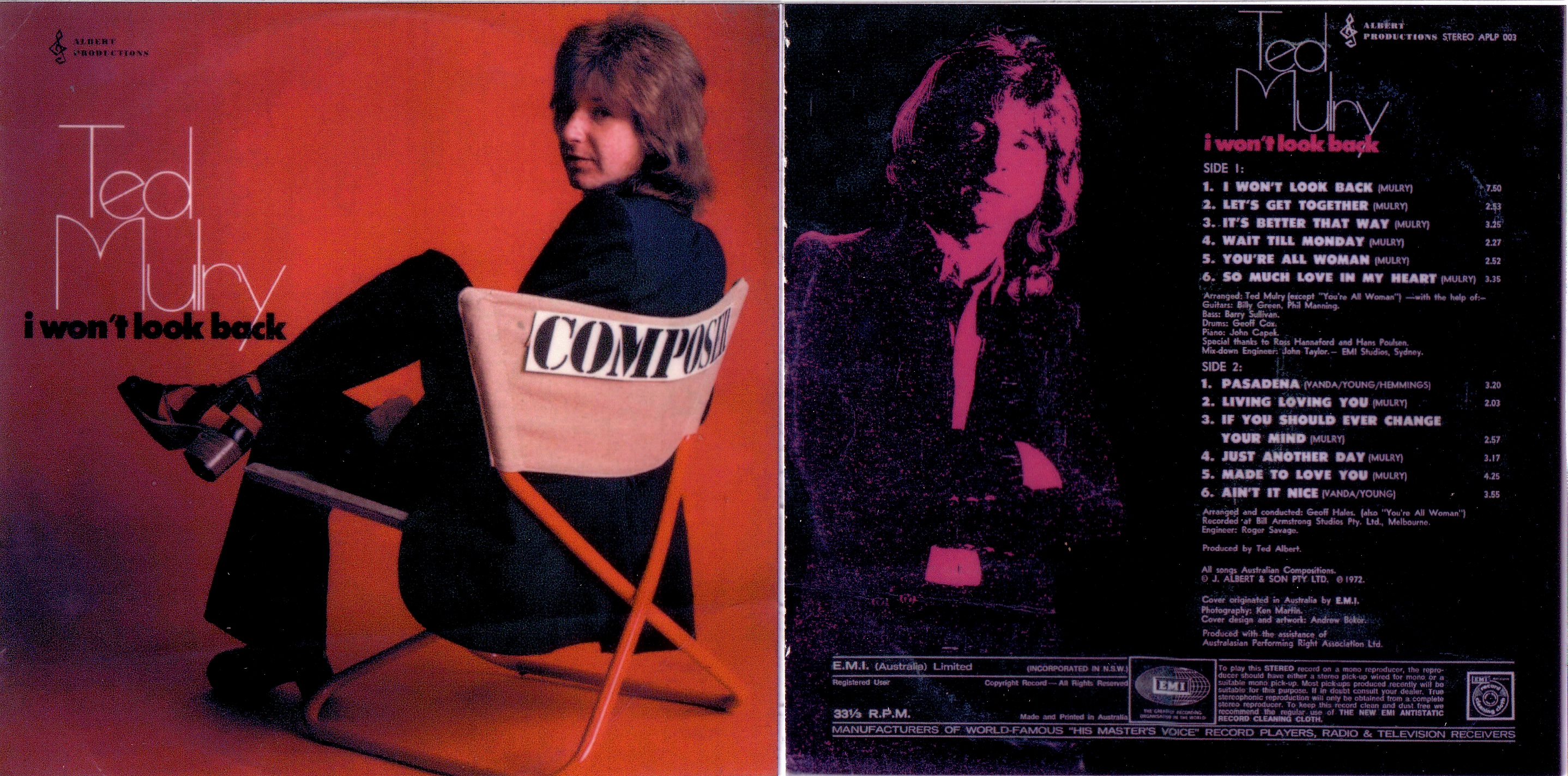 Side 1
1. "I Won't Look Back"
2. "Let's Get Together"
3. "It's Better That Way"
4. "Wait Till Monday"
5. "You're All Woman"
6. "So Much In Love"

Side 2
1. "Pasadena" (Vanda-Young-Hemming)
2. "Living Loving You"
3. "If You Should Ever Change Your Mind"
4. "Just Another Day"
5. "Made To Love You"
6. "Ain't It Nice" (Vanda-Young)
Produced by Ted Albert
Engineered by Roger Savage
Recorded at Armstrong's Studios. Melbourne
Orchestrations arranged and conducted by Geoff Hales
Photography: Ken Martin
Cover design and artwork: Andrew Bokor


---
Apr. 1999
This Time (Southland Music SLM-733) CD
[image]
1. "This Time"
2. "What You Say"
3. "Stay With Me"
4. "All My Love"
5. "Not My Heart"
6. "I Need You"
7. "Rain"
8. "No Matter Where You Are"
9. "Everyday People"
10. "Experience"
11. "Rendezvous"
12. "Broadway"

Drums: Paul De Marco
Bass: Rebecca Johnson
Acoustic guitar: Rod McCormack
Electric guitar: Mark Punch
Keyboards: Sam McNally
Background vocals: Mother Jive, Rod McCormack, Ted Mulry, Kate Ballantyne

All songs by Ted Mulry, except "No Matter Where You Are" written and sung by Ted and Steve Mulry
Produced by Ted Mulry
Engineered by Herm Kovacs
Recorded at Ramrod Studios, Brookvale, Sydney
Cover concept: Lynne Thompson, designed by Rebecca Sabbagh
Exeuctive producers for Southland Music: Steve Crothers and Ian McKay


---
with The Ted Mulry Gang:

Nov. 1974
Here We Are (Albert Productions APLP-007) LP
reissued on CD ca. 2000 (Albert Productions 477057-2)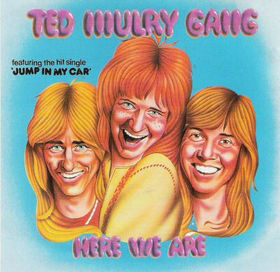 Side 1
1. "Circles"
2. "All The Headaches Came Today"
3. "Sunday Evenings"
4. "Here We Are"
5. "My Temperature's High"
6. "Only Love Can Make It"
Side 2
1. "Come Back Home"
2. "You Made a Fool of Me"
3. "I'm on Fire"
4. "Move On"
5. "Give it to Me"
6. "Jump in My Car"
Produced by Ted Albert
Recorded at EMI studios and ATA Studios, Sydney
---



June 1976




Struttin'

(Albert Productions APLP-018)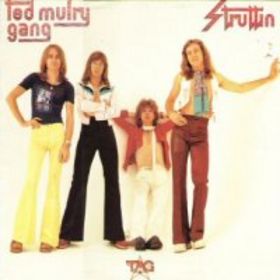 Side 1
1. "Crazy" 3:25
2. "I'm Comin' Home" 3:52
3. "Make Me Wanna Cry" 3:05
4. "Dinah" 6:02
5. "Give Me Your Lovin'" 3:23
Side 2
1. "Darktown Strutters Ball" 3:23
2. "Train" 3:50
3. "Lies" 3:03
4. "Help Me Out" 4:00
5. "I'm Free" 3:53
6. "Goodbye" 2:40
---

Nov. 1976
Steppin' Out (Albert Productions APLP-021)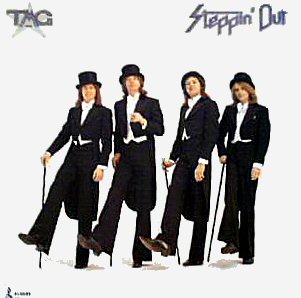 Side 1
1. Steppin' Out
2. Wanted Man
3. Can't Help Loving You
4. Jamaica Rum
5. Let's Do It Again
Side 2
1. She's a Killer
2. Giving Up on Your Love
3. Lady
4. I'm a Fool For You
5. Will You Remember Me

---

1977
The TMG Album (Mushroom L-36273)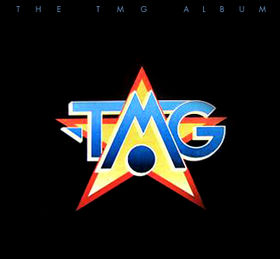 Side 1
1. "My Little Girl"
2. "Without You"
3. "Having You Around"
4. "Having Fun"
5. "Sha-la-la-lee"
Side 2
1. "Too Bad"
2. "You've Got It"
3. "Linda"
4. "I'm Your Man"
5. "Naturally"

---
Mar. 1978
Ted Mulry / TMG Greatest Hits (Albert Productions APLP-028) LP, gatefold
[no image available]
Side 1 (Ted Mulry solo)
1. "Julia"
2. "Memories"
3. "Ain't It Nice"
4. "Louisa"
5. "Let's Get Together"
6. "Found My Way"
7. "Yesterday Sunshine"
8. "Dreams"
9. "Falling in Love Again"
Side 2 (TMG)
1. "Jump in My Car"
2. "Sunday Evenings"
3. "Steppin' Out"
4. "Crazy"
5. "Jamaica Rum"
6. "I'm Free"
7. "She's For Me"
8. "Darktown Strutters Ball"


---
Apr. 1978
Disturbing the Peace (Mushroom L-36619)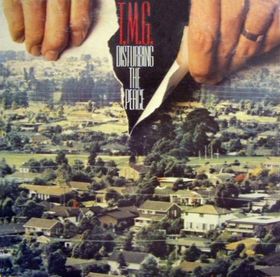 Side 1
1. Disturbing the Peace
2. Heart of Stone
3. Over and Over
4. Woman in Love
5. I Miss You
Side 2
1. Lazy Eyes
2. Gonna Be Somebody
3. Set Me Free
4. Girl on the Stage
5. One Night

---
1979 TMG Live (Mushroom L-37073)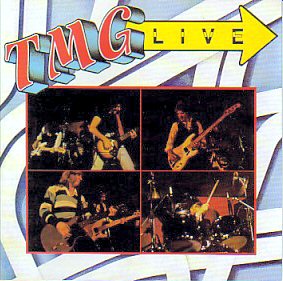 ---
1980
Locked In (Mushroom)
Produced by Eddie Leonetti
---
1989 (Albert Productions)
Re-Union

References / Links
Thanks to Mick Robbins for his comments on the I Won't Look Back LP
Ian McFarlane
Encyclopedia of Australian Rock & Pop (Allen & Unwin, 1999)
Noel McGrath
Australian Encyclopedia of Rock (Outback Press, 1978)
Chris Spencer, Zbig Nowara & Paul McHenry
Who's Who of Australian Rock (Five Mile Press, 2002)
Glenn A. Baker
liner notes to Gimme Ted DVD
Rate Your Music - Ted Mulry
http://rateyourmusic.com/artist/ted_mulry
poparchives.com.au
http://www.poparchives.com.au/feature.php?id=1431
http://www.poparchives.com.au/feature.php?id=77
Music Australia
http://www.musicaustralia.org