ERIC JUPP
Pianist, composer, arranger, conductor, 1940s - 2000s
Born: 7 January 1922, Brighton, England
Died: 2 January 2003, Launceston, Tasmania
"The Jupp brand of music is for relaxing, for dreaming, for dining, dancing, or just doing absolutely nothing at all."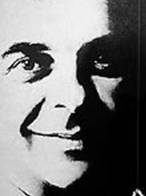 Eric Jupp was a familiar presence throughout the 1960s and early 1970s in Australia, thanks to his hugely popular and long-running ABC-TV variety series The Magic of Music.
Born in Brighton, England in 1922, Eric Jupp began to study piano at seven. He left school and started his musical career playing in nightclubs at just 14. He joined the RAF at the outbreak of World War II, and when the war ended, he went to London, where he soon became a prominent member of several leading big bands, working as a pianist, composer and arranger.
Jupp worked as an arranger for both of Britain's top bandleaders of the period, Stanley Black and Ted Heath. Heath's staff of arrangers included four of the top names in British big-band music -- Jupp, Johnny Dankworth, George Shearing and Wally Stott (musical director of "The Goon Show"). As pianist and arranger, Jupp was also a long-serving member of the Oscar Rabin Band, one of Britain's most popular dance orchestras of that period.
In 1951 Eric formed his own orchestra at the request of the BBC and began making regular radio broadcasts and also appeared in the Hammer Films-produced TV series Bands on Parade. He began writing music for films in Britain, beginning with the crime drama The Secret Place (1957). Jupp first visited Australia in 1960 under short-term contract to the ABC, and during his visit he arranged The Allen Brothers single "First Kiss" / "My Secret" (July 1960). He returned to England later in the year but in 1961 he was invited to join the ABC as musical director of its light entertainment department, based in Sydney.
Soon after taking up his new post he formed the Eric Jupp Orchestra and launched his popular and remarkably long-lived weekly ABC-TV series The Magic of Music, which was seen in 29 countries and ran from 1961 to 1974. The series featured mainly "orchestral pops" and light classicaI music, although it also included regular jazz segments featuring notable performers such as Don Burrows and George Golla. The success of the series led to a contract with EMI's Columbia label and a string of popular "Magic of Music" LPs that continued to the mid-70s. The LPs (and the show) often featured vocalists Shirley McDonald, (whom Jupp married in the 1960s) and Neil Williams.
Eric Jupp soon made a name for himself as a leading composer for film and TV in Australia. Undoubtedly his best-remembered composition is the theme for the hugely popular 1960s TV series Skippy, The Bush Kangaroo. In early 1968 Jupp moved to Norfolk Island, commuting by air to the mainland for his TV, radio and film work.
Among his later film and TV credits, Eric was the music director for the 1971 Fauna Productions adventure series Barrier Reef. He composed music for the TV series Bailey's Bird (1977) and wrote the score for Michael Pate's 1979 film version of Colleen McCullough's first novel, Tim, starring a then-unknown Mel Gibson. It was Jupp who convinced author Colleen McCullough to settle on the island after she shot to fame with her second novel, The Thorn Birds.
His last major TV credit was the score for the early '90s remake of Skippy. In his retirement, Eric Jupp and his family moved to Launceston in Tasmania, where he died in January 2003, after battling illness for several months. Eric Jupp was survived by his wife Shirley, their two daughters, six grandchildren and seven great-grandchildren.
Selected Credits (as composer)
Soundtracks / Themes:
The Adventures of Skippy (1991) TV Series
Highest Honor (1982) aka Southern Cross
Attack Force Z (1982)
Tim (1979)
Bailey's Bird (1977) TV Series
Barrier Reef (music director)
Skippy, The Bush Kangaroo (1966) TV Series
The Secret Place (1957, UK)
Selected instrumental works:
"Janetta"
"Enchanted Night"
"Bob Sleigh"
Selected songs:
"My Love is Venice"
"My Pal Skippy"
Discography
Eric Jupp was a remarkably prolific and popular recording artist, a fact which can be gauged by his extensive discography. This listing is by no means complete and we would welcome any additions or corrections. Unless otherwise indicated, all titles are credited to Eric Jupp and His Orchestra.
EPs
196?
Frenesi (Festival FX10998)
"Frenesi" / "Deep Purple" // "Anna" / "Amor"
196?
Smooth and Sultry (Columbia SEG7861)
"Dance little lady" / "The very thought of you" // "Love walked in" / "Got to dance my way to heaven"
196?
Skippy The Bush Kangaroo (Parlophone GEPO70052 )
"Skippy" (Main Title) / "Surf King" // "My Pal Skippy" (Vocal: Garry Pankhurst) / "Bush Tracker"
1974
Beautiful Norfolk Island (Bounty Records B1)
Eric Jupp & His Orchestra with the Eric Jupp Chorale; Vocals by Shirley Shirley MacDonald, Neil Williams
"Beautiful Norfolk Island" / *"The Ballad of Barney Duffy" // "The Ship of Fame" / "Pitcairn Anthem"
Arranged, composed and produced by Eric Jupp except *lyrics by June Ryves
Albums
196?
The Magic of Music: Eric Jupp and his Orchestra (Columbia OSX 7661) LP
---
1960s
The Magic Of Eric Jupp And His Music (Columbia SCXO 7832) LP
---
1960s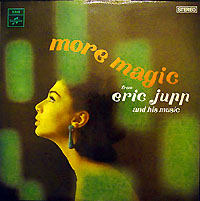 More Magic From Eric Jupp And His Music (Columbia SCXO 7876) LP
Side 1:
. 1. "The last waltz"
2. "Baion de santos"
3. "Mona lisa"
4. "Serenade to Catherine"
5. "Trundle's theme"
6. "Manha de carnaval"
Side 2:
1. "Spanish eyes"
2. "Baby elephant walk"
3. "I'll remember"
4. "Delilah"
5. "Desolation"
6. "Green, green grass of home"
---
196?
Eric Jupp Presents Shirley McDonald (Columbia SCXO 7884) LP
Side One:
1. "Can't Help Singing"
2. "If I Loved You"
3. "The Heather On The Hill"
4. "You Don't Have To Say You Love Me"
5. "I Loves You, Porgy"
6. "Goodnight"
Side Two:
1. "The Second Time Around"
2. "I'll Take Romance"
3. "What Now My Love"
4. "When The World Was Young"
5. "I Could Have Danced All Night"
6. "I Wish You Love"
---
196?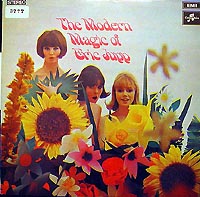 The Modern Magic of Eric Jupp
Soloists: Don Burrows, George Golla
Produced by Eric Dunn
(Columbia SCXO 7903) LP
Side One:
1. For Once In My Life
2. The Look Of Love
3. Thoroughly Modern Millie
4. Yesterday
5. Something
6. This Is My Song
7. Up, Up And Away
Side Two:
1. Those Were The Days
2. Love In Blue
3. A Man And A Woman
4. If I Were A Rich Man
5. Honey;
6. Don't Sleep In The Subway
7. I Will Wait For You
---
1970
It's Me, Shirley (Columbia SCXO 7904) LP
Shirley McDonald, with Eric Jupp and his Orchestra
---
196?
The Rhythm Of Life (Columbia SCXO 7918) LP
---
196?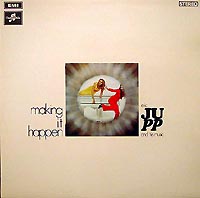 Making It Happen (Columbia SCXO 7927) LP
---
196?
A Song At Twilight (Columbia SCXO 7988) LP
---
1971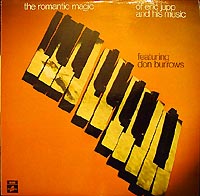 The Romantic Magic of Eric Jupp and His Music featuring Don Burrows (Columbia SCXO 7994) LP
Soloist: Don Burrows
Producer: Eric Dunn
---
1971
Neil Williams - A Time For Love (Columbia SCXO 7996) LP
---
1971?
The Magic Of Shirley McDonald (Columbia SCXO 7997) LP
---
1971
The Romantic Music of Eric Jupp and his Orchestra (Axis/EMI AX 1126) LP
---
1972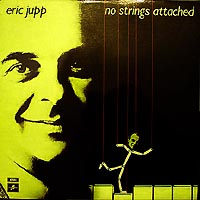 No Strings Attached (Columbia SOEX 9951) LP
Soloists: Don Burrows, George Golla, Eric Jupp, John Sangster
1. "Rose Garden"
2. "Born Free"
3. "Can't Take My Eyes Off Of You"
4. "Cherish"
5. "More; 6.For Once In My Life"
7. "Raindrops Keep Fallin' On My Head"
8. "Theme From Love Story"
9. "Do You Know The Way To San Jose"
10. "Wanderin' Star"
11. "For All We Know"
12. "I Say A Little Prayer"
---
1973
How Great Thou Art (Columbia SCXO 8010)
---
1970s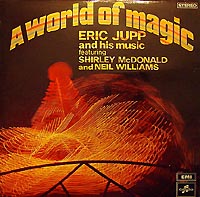 A World Of Magic (Columbia SOEX 9660) LP
Side 1:
"Trundle's theme"
"Once upon a time"
"Those were the days"
"By the time I get to Phoenix"
"The two of us"
Side 2:
"The last waltz"
"I loves you, Porgy"
"Didn't we"
"June bride"
"Fare thee well"
---
1974
The Magic Of Music (Festival L 45525/6) 2LP
Eric Jupp and his Piano and Orchestra / Eric Jupp and his Latin Rhythm
Record I, Side I 1. Frenesi; 2. You Belong To My Heart; 3. Anna; 4. Big City Blues; 5. Amor
Record I, Side II 1. Poinciana (Song Of The Trees); 2. Why Do I Love You; 3. By The Light Of Your Eyes; 4. Yesterdays; 5. Toy Piano; 6. Adios, Mariquita Linda
Record II, Side I 1. Moonlight Becomes You; 2. Down Argentine Way; 3. Thou Swell; 4. Ciao Ciao Bambino; 5. Manana; 6. Tea For Two
Record II, Side II 1. Serenata; 2. April In Portugal; 3. Our Love Is Here To Stay; 4. Brazil; 5. Delicado; 6. Cherry Pink And Apple Blossom White
---
1975
Eric Jupp Presents The Magic Of Music Live (Columbia SCXO 8025) LP
---
197?
There's Magic In Music (Universal Record Club U 779) LP
---
197?
There's Magic In Music
(Festival FL 31437) LP
---
197?
Down Argentine Way
(Festival FL 31580) LP
---
1977
Yesterday When The World Was Warm
Eric Jupp & The ABC Sydney Showband with Al Styne, vocals
(Festival L25293) LP
---
1979
Best Of The Magic Of Music, Vol. 1
(Axis/EMI AX-1076) LP
---
1979
Best Of Magic Of Music Vol.2
(Axis/EMI AXIS 6423) LP
---
1980s?
Eric Jupp's Magic Of Music With Shirley McDonald And Neil Williams
(Reader's Digest/EMI RD4-127) 8LP boxed set
---
1983
Eric Jupp Conducts The New Concert Orchestra
(EMI EMX122) LP
CD
1991
The Magic Of Music - Eric Jupp And His Music
(Axis/EMI 701642-2) CD
---
1994
Eric Jupp And His Orchestra - Magic Memories
(EMI 8144722) CD
References / Links
Dennis Nicholson
Australian Soundtracks
http://users.bigpond.net.au/nodette/AussieST/tv/M-tv.htm
Vinyl Revival
http://www.vinylrevival.com/likewow/vol3/jupp.html
Screensound
http://www.screensound.gov.au/cgi-bin/waxhtml.exe?WAXScriptName=olc/results.wxh&sParentPartyID=3675001&sCallingForm=2&sNameType=1&sSearchType=1&sDBCode=PR&sCollType=2
The Great British Big Bands
http://64.33.34.112/.BRIT/br.html
Jazz Professional - The Oscar Rabin Band
http://www.jazzprofessional.com/big_band_profiles/Rabin%20band.htm
Valda Magsuball
liner notes to Magic from Eric Jupp & His Music
Internet Movie Database
http://us.imdb.com/Name?Jupp,+Eric
"Ted Heath and His Music" website
http://www.allaboutjazz.com/reviews/r1202_016.htm