SISTER JANET MEAD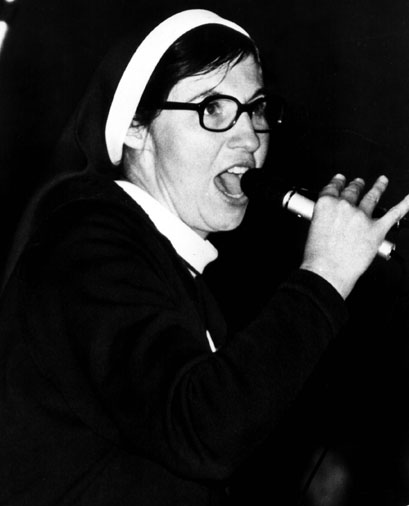 The history of Australian popular music is littered with stories of 'one-hit wonders', novelty acts and one-off recordings by anonymous studio groups, but among all these tales there is perhaps none quite as remarkable as the meteoric career of Sister Janet Mead.
An Adelaide native, born in 1938, Janet Mead showed great musical talent at an early age and possessed a three-octave vocal range with perfect pitch. She showed a keen interest in combining music and spirituality at an early age, and she formed a group called The Rock Band when she was just 17 to provide music for the weekly mass at the local cathedral. Janet had studied piano at the Adelaide Conservatorium and when she joined the Sisters of Mercy order she became a music teacher at two local Catholic schools. She began to explore the "rock mass" concept in the early 70's, wishing to make the Catholic Mass more interesting and accessible for students at the schools where she taught. This in turn led to a successful series of "rock masses" that she conducted at Adelaide Cathedral.
In 1973 began making professional recordings of her music for churches and schools. During the year she came to Sydney for a recording session produced by noted Festival house producer Martin Erdman. One of the tracks they cut was a cover of the Donovan song "Brother Sun, Sister Moon" which had been written for the soundtrack of Franco Zeffirelli's 1973 film of the same name. As an afterthought, they cut a rocked-up arrangement of "The Lord's Prayer", which had been put to music by one of her parishioners and musical collaborators, Arnold Strals.
Festival were evidently impressed enough with the performances to release these two songs as a single. It was timely, given the contemporary interest in the blending rock music and religious themes, and the interest many in the clergy had in exploiting rock music to get their message across in an increasingly secular age. In fact there were numerous precedents for this kind of work. The most obvious predecessor was The Singing Nun, Sr Luc-Dominique (whose real name was Jeanine Deckers), -- her surprise hit "Dominique" extolled the virtues of St Dominic, founder of the Dominican order. Sung in both English and French the single was an international smash hit in 1963 and famously kept the Kingsmen's classic "Louie Louie" out of the #1 spot in the American charts.
In the early '70s the most successful effort in this genre was the rock musical Jesus Christ Superstar, which at that time was still playing to packed houses in Sydney. Progressive Oz rock group Bakery had explored similar territory a couple of years earlier with their LP Rock Mass For Love (Aug. 1971), recorded live at St George's Cathedral in Perth and the religiously-themed stage musical Godpsell had provided a #1 hit for Colleen Hewett in November 1971 with a version of the show's signature tune "Day By Day".
Yet, even with these antecedents, few would have predicted the colossal response to the single. Aussie DJs picked it up, but they flipped the single and started playing the B-side, "The Lords Prayer". It became so popular that A&M Records (with whom Festival had a licensing agreement) took it up for distribution to more than 31 countries. It became a massive international hit, including Top Five placement in both the American and Canadian Top 40 in April 1974. The record went on to sell a staggering three million copies worldwide -- two million alone in the USA -- and on 8 April 1974 Sister Janet earned the distinction of being the first Australian recording artist to sell over one million copies of an Australian-produced record in the USA.
The single reached in #4 in the USA, was Top 5 in Canada and it was #1 on the Melbourne charts for four weeks and #3 nationally Australia during January 1974. Although it has since acquired the status of kitsch icon in many quarters, it is remains a cornerstone of the Christian rock genre and is still rated as one of the top-selling singles of the '70s in the USA. It has been reissued many times and included on many anthologies. Sister Janet was even nominated for a prestigious Grammy Award, in the category 'Best Inspirational Performance' although she was beaten for the award by Elvis Presley's version of "How Great Thou Art". Both her gold record (pictured below) and her Grammy nomination certificate were included in the Powerhouse Museum's "Spinning Around" exhibition.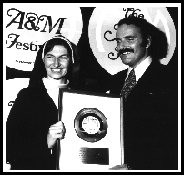 Sister Janet not surprisingly donated all her royalties to charity, while Festival ploughed their share into a major refit of Studio A in Sydney, including the purchase of a top-of-the-line Neve mixing desk and a 24-track recorder -- it was consequently renamed 'Studio 24'. The runaway success of the single led to an album for Festival, called With You I Am which was the first LP recorded in the newly renovated studios and featuring some of Australia's best sessions musicians including Derek Fairbrass, John Sangster, Claire Poole and Kerrie Biddell. It also sold very well, reaching #19 on the national chart in July 1974. Her second album, But I Am Smaller Than My Song: A Rock Mass, featured a complete recording of one of her now famous rock masses. Sister Janet crept into the US charts once more with the follow-up single "Take My Hand" but never replicated the immense success of her debut.
The humble and media-shy nun resisted calls to continue her pop career, despite intense media interest. In fact the record's success introduced what she now says was a "horrible time" in her life -- worldwide success brought a pressure that led her to question her faith. A third album that was recorded in 1983 was filed away in the Festival vaults after Sister Janet withdrew from the public eye. The tapes were rediscovered a couple of years ago and some tracks including "The Lord's Prayer" have been included on the new album A Time To Sing, released in 1999 as part of the 25th anniversary celebrations of the hit single.
One interesting trivia note is that drummer Clare Moore (who is married to singer-songwriter Dave Graney) owes much to her original music teacher in Adelaide -- none other than Sister Janet!
"We played in her band for rock mass at the cathedral. She had a gold record for "The Lord's Prayer" and was presented with a framed gold record at the Hilton Hotel in Adelaide. There were all these record company dudes in white '70s suits and sunglasses and big moustaches, and a bunch of us 13-year-old schoolgirls in the uniforms. But, fortunately, there were plenty of nuns about to scare them all off."
Although she withdrew from the spotlight for many years, Sister Janet did not abandon her love of music and performance, and she has returned to the arts in recent years. She reportedly left the Sisters of Mercy and moved to Melbourne, but continued her social works. In October 2001, Sister Janet directed the Romeo Company's annual production at the Melbourne Trades Hall Auditorium, an inventive adaptation by Damien Mead of Victor Hugo's Les Miserables.
In 2004, Sister Janet received the Yamaha Golden Gospel Award in recognition of her services to Australian Christian music at the Australian Gospel Music Awards in Canberra. Martin Erdman also received the Yamaha Golden Gospel Award concurrently and presented a short feature film, Sister Janet Mead, at these awards which were coordinated by the Australian Gospel Music Association.

Sister Janet's recordings are hard to find these days, with original vinyl issues occasionally for sale on eBay fetching high prices from collectors. Her CD album A Time To Sing is readily available from Hardrush Music and all three CDs by Sister Janet are available from Martin's web site www.ozrecords.com. There is a website for her on MySpace, plus her official site at www.sisterjanetmead.com.
Discography
Singles
1973
"The Lord's Prayer" (trad. music by.Arnold Strals) / "Brother Sun, Sister Moon" (Donovan Leitch) (Festival K-5379)
also released in the USA/Canada (A&M 1491)
1974
"Take My Hand" / "Take My Hand" (mono) (A&M 16118)
LPs
1974
With You I Am (Festival L-35148 )
released in the USA as The Lord's Prayer (A&M SP 3639)
Side 1:
"The Ten Commandments" 2:48 (Ursula Hicks)
"With You I Am" 2:42 (Arnold Strals)
"Gloria" 2:15 (Sister Janet Mead)
"Father I Put My Life in Your Hands" 3:32 (Arnold Strals)
"Take My Hand" 1:54 (Ursula Hicks)
"The Lord's Prayer" 2:42 (Arnold Strals)
Side 2:
"Lamb of God" 2:56 (Sister Janet Mead-Theo Van Der Sman)
"Keep Me Safe" 1:49 (Theo Van Der Sman)
"The Earth is Filled" 2:46 (Arnold Strals)
"Hold On" 2:47 (Kay Stringer)
"God My God" 2:29 (Arnold Strals)
"He Is King" 4:49 (Arnold Strals-Richard Moore)
Produced, engineered and mixed by Martin B. Erdman
Arrangements and Music Direction by Les Sanda
Creative Director: Noel W. Brown

The Musicians:
The "Rocking" Rhythm Section:
Derek Fairbrass - drums, congas
John Sangster - percussion
Ned Sutherland - guitars
George Thompson - bass guitar
Barrie Heidenreich - keyboards

Trumpets and flugelhorns: Jack Iversen, Ron Falson, Lloyd Adamson
Trombones: Peter Haslam, Bob McIvor, Ron Spillett
Woodwinds: Errol Buddle, Bob Chalker, Len Mulley, Dave Rutledge, Tom Sparkes
Violins: Gordon Bennett, Geza Bachmann, John Lyle, Nancy Clements, Janet Harvey, Phillip Hartl, Klara Korda, Sara Solan, Brecon Carter, Juliette Levy, Eva Kelly
Violas: John Gould, Ceska Baret, Franco Dal Santo, Joy Lee, Les Crockford, Frank Coe
Cellos: Lal Kuring, Barbara Woolley, Nathan Waks, Barbara Yelland
Background Vocals: Girls: Claire Poole, Kerrie Biddell, Sue Bracken, Katrina Southwell, Gaye MacFarlane, Annette Terrill, Betty Lys, Jeanette Freeman Boys: Joe Andre, Peter Brandon, Rod Dunbar, Peter Flanagan, Ken Holland, Robert Mitchell, Peter Tucker

Art Direction: Roland Young
Front Cover Illustration: Sonia Weiss
Back Cover Photograhy: Vic Grimmett
Album Design: Chuck Beeson
Recorded in Sydney, Australia, at Festival's "Studio 24."

"This album is the first completed in the new "Studio 24" control room and studio facilities of Festival Records, April, 1974. Focal point of the installation being a Neve Customised Model 8038 24-track mixing console having 28 microphone inputs and simultaneous quadraphonic, stereophonic and monophonic mix-down. An M.C.I. Model JH-24 multi-track Recorder with autolocator and noise gating is complemented by a Dolby M-24 Noise Reduction System for the recording Medium" - Barry Nagel: Chief Engineer/Electronics
---
1975
But I Am Smaller Than My Song: A Rock Mass (Festival L-35552)
1. "Happy The Man"
2. "Lord Have Mercy"
3. "Waterfall Song"
4. "Glory To The Word Of God"
5. "Wailing Song"
6. "Holy, Holy Lord"
7. "Dying You Destroyed Our Death"
8. "The Lord's Prayer" (new version)
9. "Lamb of God"
10. "Communion Song"
11. "The Heavens Unfold"
12. "Thank You Lord"
13. "Sermon on the Mount"
14. "I Will Raise Him Up"
---
1999
A Time To Sing (Festival D26268) recorded 1983, previously unreleased

"The Sound Of Silence"
"The Lord Is My Shepherd"
"The Times They Are A' Changin'
"Sabbath Prayer"
"Babylon"
"Brand New World"
"The Rose"
"Turn On The Sun"
"The Lord's Prayer "
"Morning Has Broken"
"Day By Day / Prepare Ye The Way Of The Lord"
"The Lord Our God Is King"
"Turn Turn Turn"
"Hosanna"
"Music Of The World A Turnin' "
"Amen"
Produced by Martin Erdman
References/Links
Sister Janet Mead official website
http://www.sisterjanetmead.com
Ian McFarlane
Australian Encyclopedia of Rock & Pop (Allen & Unwin, 1999)
The Age
http://www.theage.com.au/entertainment/2001/08/10/FFXTDJRU6QC.html
Ozsongs
http://www.ozsongs.com.au/Artists/Sr_Janet_Mead/sr_janet_mead.html
Immedia
www.themusic.com.au/im_m/archive/990629-166/eliezer.html
All Music Guide
http://www.allmusic.com/cg/amg.dll?p=amg&sql=B0nfrxq8gldte
http://www.utlc.org.au/arts/victorhugo.htm
http://users.erols.com/mantis2/cm.html#SISTER%20JANET%20MEAD