FROG HOLLOW
Sydney, 1970's
John Crothers - guitar
Barry Falkner - Bass
Greg Sheehan - Drums
Kevin Kahler - Keyboards
History
The band was together for 5 years and yes played lots of dances around Kingsgrove/Strathfield areas. Had a 12 month residency at the Manly Vale Hotel and did 2 cruises around the Pacific and quite a number of TV appearances. We were essentially a live band but did some recording in those days.
John and Barry wrote most of the music and they recorded music for 2 soundtracks " Over Under Sideways Down" and Naturally Free" both movies by Ken Anderson. They also recorded a single "Go Away" on the DuMonde label in 1971.
After Frog Hollow Greg Sheehan joined Blackfeather and Duck and McKenzie Theory and I believe now runs a drumming school on the North Coast of NSW
Barry Falkner became Marketing Manager of Wizard Records, formed the band Terra Firma with Benjamin Hugg, was the Art Director of CBS/Sony music for more than a decade and became a prolific songwriter/producer/mentor with many artists and more recently has received many international songwriting awards with BoX Factory.
Kevin Kahler became a musical director (shows and club performances) and a senior executive at 2KY.
John Crothers joined the priesthood.
Discography
Singles
1971
"Go away" (DuMonde)
Albums
1970
Over Under Sideways Down (Soundtrack) (DuMonde)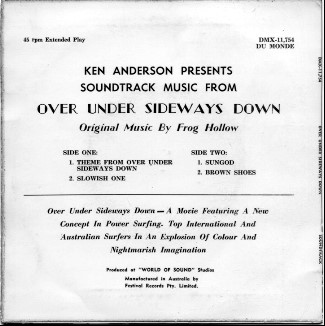 Side One:
"Theme From Over Under Sideways Down"
"Slowish One"
Side Two:
"Sungod
"Brown Shoes"
References/Links
-