MAUREEN ELKNER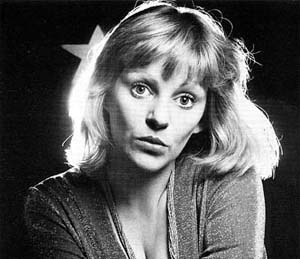 Maureen Elkner has been a highly-regarded and sought-after rock/pop vocalist since the Sixties, and she is also an accomplished actress and comedienne,. But, for better or worse, she always be remembered for her 1975 "one-hit-wonder" single, "Rak Off Normie". As Noel McGrath observed, the song pigeonholed her as a novelty artist, when in fact there is a lot more to the story.
"Rak Off Normie" was the 'answer song' to "The Newcastle Song", written and performed by folk singer and broadcaster Bob Hudson, who had recently come to prominence in Sydney as one of the original team of DJs on the ABC's new rock station Double Jay (2JJ). "The Newcastle Song" became one of the surprise hits of the year, going to #1 all over the country in March 1975. It was a live recording of a twenty-minute satirical monologue (with Hudson accompanying himself on guitar) which tells of the the exploits of a young Newcastle 'hoon' called Normie as he cruises along Newcastle's main street in his hotted-up car on a Saturday night.
"Rak Off Normie" ("rak off" is an Aussie slang term which means 'get lost') was co-written by Hudson and Chris Neal. It was performed by Maureen, in character and very much in the "ocker" idiom", who portrayed a Newcastle lass who is less than impressed with the advances of Normie and his mates. "Rak Off Normie" was almost as successful as its predecessor, reaching #6 nationally in June 1975. It made Maureen a household name for a short time, but it has also had the effect of overshadowing her many other achievements.
Maureen started her professional career in the late 1960s with female vocal trio The Chiffons, with Sue Brady and Judy Condon. They sang back-up for John Farnham, and toured Vietnam around 1969 with The Gallery, entertaining the Australian troops stationed there. Maureen's experiences in Vietnam are included in Siobhan McHugh's book Minefields and Miniskirts (Doubleday, 1993).
Also in 1969, Maureen contributed to a landmark Australian single that is probably the other recording she is best-known for (at least by OzRock nerds). Alongside former Wild Cherries vocalist Danny Robinson, Maureen provided backing vocals for the Russell Morris classic "The Real Thing", and her voice can be heard prominently throughout the song, especially the wailing high notes in the closing bars of the song, just before the final explosion.
The Chiffons recorded one single for Astor, "Secret Love" / "It Hurts Like 16" (April 1970), before Maureen quit, to be replaced by Sue Brady's sister Pauline. In 1974, Maureen signed to Festival's Infinity label. She recorded two Suzi Quatro-style rock Singles for them, "Dynamite" b/w "Barley Rye" (January) and a cover of The Troggs' "Wild Thing" b/w "Sweet Morning" (May), but neither made any impression on the charts.
In the early Seventies Maureen branched out into acting and musical theatre. She appeared in Australian production of the then-notorious musical Oh! Culcutta, which was closed by police halfway through the second performance and banned. One of her first TV credits was a small role in the famous "sex and sin' soapie Number 96. In 1972 and she was a cast member of the original Australian production of Jesus Christ Superstar and in 1974 she played the featured role of "Columbia" in the original Sydney production of The Rocky Horror Show with Reg Livermore. She appears on the original Australian cast soundtrack LPs of both these shows.
In 1975 she signed to M7 Records (which was also Bob Hudson's label) and she recorded five singles for them including "Normie", which was a big hit in Sydney, reaching #5 in June. It was followed by four more singles and two albums, Maureen Elkner and Love Tracks (1977), which featured a young Tommy Emmanuel on guitar.
As well as working regularly in cabaret and on the club circuit (as she still does) Maureen continued to appear in occasional TV roles. In 1977 she featured in an episode of Crawford's police drama Chopper Squad and in the early '80s she guested in the hit series A Country Practice.
In 2000 Maureen guested in an episode of the police drama Water Rats, and in May that year she performed at the Showtune Showdown at the Kirk Gallery in Sydney. Maureen continues to be a popular attraction on the club and pubcircuit, where she often performs a Dusty Springfield tribute show.
Discography
Singles
(to 1975)
Jan. 1974
"Dynamite" / "Barley Rye"
(Infinity K 5373)
May 1974
"Wild Thing" / "Sweet Morning"
(Infinity)
1975
"Rak Off Normie" / "Lonely Nights"
(M7 SDM 324)
Albums
1975
Maureen Elkner (M7)
1977
Love Tracks (M7)
References / Links
Ian McFarlane
Encyclopedia of Australian Rock & Pop (Allen & Unwin, 1999)
Noel McGrath
Australian Encyclopedia of Rock (Outback Press, 1978)
Wandin Valley Bush Nursing Hospital
http://acountrypractice.com/Guest/guests_e.html
Australian Rock By Memorable Music
http://www.memorabletv.com/musicworld/ozrock/etog.htm
Newcastle Post TE Archive
http://www.anysite.com.au
Dreams, Fantasies & Nightmares
http://www.borderlinebooks.com/australia/e2.html#Maureen_Elkner