THE BITTER LEMONS
Canberra 1965
Nicky Arndt (guitar)
Martin Berry (guitar, trumpet
Rex Bullen (guitar)
Graeme Harding (bass)
Tony Hayes (bass)
Dave Kain (guitar)
Paul Lyneham (vocals)
Steve Senz (drums)
History
Unfortunately there is little information about this pioneering Canberra beat combo, although we hope this can be rectified in the near future. The group might have remained very obscure indeed had it not been for the later career of their lead singer, Paul Lyneham, who became a prominent political journalist.
The band formed around 1965 under the name The Orgasms, but changed it to the less provocative Bitter Lemons soon after. The band had a residency at a club called The Lemon Tree, in Kingston ACT. This venue will be well-known to Canberrans and others under its name in the '70s and '80s, the Boot & Flogger.
The group were evidently well-regarded and popular on the local scene, and they recorded one independently released single, "Canberra Blues", during 1965. Their band came to an abrupt halt in late 1965 after the untimely and tragic death of bassist Graeme Harding -- he accidentally fell from a ferry during a party cruise on Lake Burley Griffin and drowned, and the group evidently broke up soon after.
Although his career as a pop singer was short, Paul Lyneham went on to great notoriety and acclaim as a political journalist with the ABCs This Day Tonight and Four Corners. His heyday as political correspondent and political interviewer par excellence was with The 7:30 Report. His final work prior to his own untimely death was with the Nine Network.
Another notable member is guitarist Dave Kain. Dave went on to work in a number of prominent groups with singer Gulliver Smith, including Sydney 60s pysch band Dr. Kandy's Third Eye and a later lineup of the illustrious Company Caine in the early 70s. Dave was a fixture on the Canberra scene throughout the 70s and 80s and his contribution is well-documented on Uncle Bazs exemplary Canberra Bands site.
Another notable Bitter Lemons alumnus is Rex Bullen, who moved over to Perth in the early '70s, where he joined renowned W.A. prog-rock band Bakery. He went on to work with Jim Keays' Southern Cross and the Marc Hunter Band. He died in March 1983.
The surviving members of The Bitter Lemons reformed for a one-off performance at a social function in 1988 to mark the closing of Old Parliament House. Sadly, Paul Lyneham died from lung cancer on 24 November 2000.
Jim Thynne: "They were Canberra's answer to the Rolling Stones. And Paul was Canberra's answer to Mick Jagger."
Alan Ramsay: His son is a great guitar player, both his sons are into music. Paul used to be a rock'n'roller in his early days; he had his own band when he was a student. But when Parliament moved from the Old Parliament House up to the New Parliament House in 1988, the big farewell bash that they had down in Kings Hall at the Old Parliament House was a regrouping of his rock band which was called Bitter Lemons, and that was Lyneham up there on the stage; he loved doing it, he loved being the centre of attention. Absolutely no question, he was a showman.
Ian Dickenson: I only had a brief involvement with them during their holidays from Canberra Uni, probably in 1965. They were visiting Victoria, and I was running a 'discotheque' at Lakes Entrance, a big deal in those days. The boys, through bass guitarist Graeme Harding, my cousin and a very good friend, asked me if I could get them a gig, so Lakes Entrance for a few nights it was. Of course Graeme met his death shortly thereafter, in a very tragic fall from a ferry on Lake Burley Griffin, at a very young age.
Discography
Singles
1965
"Canberra Blues" (Lake-Lyneham) / "One More Chance" (EMI Custom PRS 1289)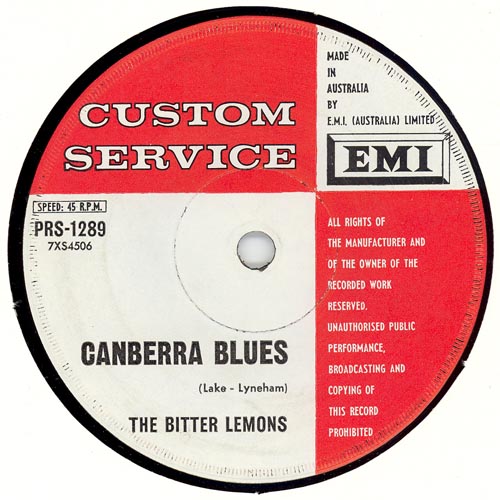 References/Links
Thanks to Peter Maloney for additional information.
Vernon Joyson
Dreams Fantasies & Nightmares: Australia (Borderline Books, 1995)
blues.org
http://www.blues.org.au/
ABC Radio National - 'Media Report'
http://www.abc.net.au/rn/talks/8.30/mediarpt/stories/s218638.htm