AUNTY JACK & THE 'GONG / COOL BANANAS
Cool Bananas (1973)
Stein Boddington (bass, vocals)
Robbie Dearlove (drums) 1973
Wayne Finley (keyboards, vocals)
Rory O'Donoghue (guitar, vocals)
Mark Punch (guitar)
Don Reid (reeds)
Stevie Wright (vocals) - June 1973 TV appearance only

Aunty Jack & The 'Gong (1974)
Grahame Bond (guitar, vocals)
Tony Buchanan (sax)
Ian Clyne (keyboards)
Russell Dunlop (drums)
Deni Gordon (backing vocals)
Rory O'Donoghue (guitar, vocals)
Tim Partridge (bass)
Mark Punch (guitar)
History
Cool Bananas and its successor Aunty Jack & The Gong were offshoots from the ABC's cult TV comedy program The Aunty Jack Show, which ran from 1972-73. Both bands featured Rory O'Donoghue, the friend and partner of Grahame Bond. Both men were accomplished performers, composers, musicians and writers who co-composed all of the original music for the series as well as writing much of the material for the various sketches and playing most of the parts.
Prior to Aunty Jack, Grahame wrote for, produced and performed in the famous Sydney University architecture faculty revues of the late '60s. It was here that he and Rory first met, when Rory was brought in via a mutual friend, to provide musical backing for one of the revues. It was here that Grahame also met young film-maker Peter Weir, and Bond went on to perform in and provide music for an ABC-TV special Man On A Green Bike which Weir wrote and directed, wrote soundtrack music for the award-winning feature Three To Go and had a leading part in Weir's first feature film Homesdale in 1971.
Rory had been a member of the '60s Sydney bands The Pogs and Oakapple Day and he had also released a solo single on the Image label in the early '70s. He formed Cool Bananas sometime in 1973 (possibly jsut after after the series had been axed). Original drummer Robbie Dearlove was replaced Russell Dunlop replacing original in time for their first single, "Been And Gone", which was released on the Albert Productions label.
The band performed on the ABC-TV special Aunty Jack Rox On which was broadcast in June 1973, playing a four-song live-in-the-studio set comprising "Gypsy", "Drug", "Hard Road" and "The Other Side". On this occasion Cool Bananas was fronted by former Easybeats lead singer Stevie Wright, who had just finished a very successful stint playing Simon Zealotes in Jesus Christ Superstar (of which O'Donoghue had also been a cast member). This was shortly before the release of Steve's hit single "Evie" and his solo album Hard Road.
Although the ABC cancelled the Aunty Jack series abruptly in 1973, it became something of a pop culture phenomenon and led to the release of a single version of the show's theme song "Farewell Aunty Jack". It was one of the first picture discs released in Australia (although apparently not the first, as has been claimed), and it was enormously successful -- according to indigenous label historian Hank Facer it was the first Australian single ever to enter the Australian charts at #1 (on 3 February 1974), and it stayed at #1 for ten weeks, charted for 22 weeks and sold over 100,000 copies by June 1974.
As a result of the combined success of the series and the single, Grahame and Rory put together a touring band called The 'Gong (an abbreviation of Wollongong, the industrial city south of Sydney which was the butt of many AJ jokes). They hit the road in June 1974 for the "Aunty Jack & The Gong In Bloody Concert" tour. The core members of The 'Gong were drawn from Sydney funk outfit The Johnny Rocco Band -- Tony Buchanan (sax), Mark Punch (guitar), Tim Partridge (bass) with ex-Cool Banana Russell Dunlop (drums), former Loved One Ian Clyne on keyboards and Deni Gordon (ex- Hair) on backing vocals.
Bond, O'Donoghue and McDonald then recorded the album Aunty Jack Sings Wollongong which was released on Polydor in April 1975. It featured Bond, O'Donoghue, Garry McDonald (Kid Eager/Norman Gunston) and leading Australian session musicians including Jamie McKinley (keyboards), Jim Penson (drums) and Shauna Jensen (ex- Superstar, vocals). The LP included Farewell Aunty Jack and the theme from their follow-up series Wollongong The Brave, a number of original songs and audio sketches, and audio adaptations of some of the best sketches, songs and characters from the series, including their hilarious parodies of Superstar (Tarzan Superape), Banjo Patterson's "The Man From Snowy River" (Snowy Aloha) and The Farrelly Brothers' unique version of Lucky Starr's "I've Been Everywhere" -- 'everywhere' in their case being Wollongong (... and Dapto). The album was re-released by Shock in 1996 with bonus tracks, as part of the compilation CD Auntyology.
Discography
Singles
1973
"Been And Gone" / "Cool Bananas" (Alberts A-10319)
Jan. 1974
"Farewell Aunty Jack" / "Doin' The Aunty Jack" (Picture Records PRS012)
7" picture disc; (#1, 22 weeks)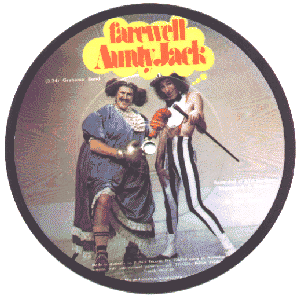 (Click on the image to see a larger version)
1975
"Aunty Jack Presents Teenage Butcher" / "Aunty Jack Presents Doin' The Kev" (Polydor 2079060)
7", 45rpm promotional single
Albums
Apr. 1975
Aunty Jack Sings Wollongong (Polydor 2907012 (LP), 3204012 (cassette)
reissued 1996 (Shock Records AUNTY1) CD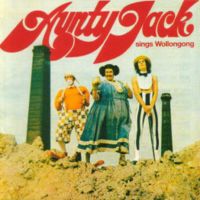 Side I
"Rip Off"
"I've Been Everywhere"
"The Kid Eager"
"Doin' The Aunty Jack"
"Man Of 1000 Faces"
"The Last Refrain"
"Veggie Queen"
"Wollongong The Brave"
Side II
"Wollongong The Brave Revisited"
"Head Of The Pack"
"Spider's Bucks Lunch"
"Ri Fol Bird, Ri Fol Raspberry, Ri Fol Tit"
"Don"t Take It Off "
"What"s On In Wollongong"
"Snowy Aloha"
"Tarzan Super Ape"
"Fish Shakes"
"The Western Lady"
"Aunty Jack 'n' The Box"
"Farewell Aunty Jack"
"Nagasaki Blues"
References/Links
Hank B. Facer
"Milestones in Australian Recorded Music"
Logo, Vol. 2, No. 4, August 1980 (Museum of Indigenous Recording Labels)
Noel McGrath
Australian Encyclopedia of Rock
(Outback Press, 1978)
Richard Miles
Aunty Jack /Grahame Bond 'Ography'
users.chariot.net.au/~rmiles/ajdisc.html
Chris Spencer, Zbig Nowara & Paul McHenry
Who's Who of Australian Rock (Five Mile Press, 2002)
Aunty Jack / Boys' Own Macbeth sound files
http://users.pipeline.com.au/groucho/Sounds/Sounds.htm
The Aunty Jack Page
http://www.geocities.com/TelevisionCity/6745/