GREG ANDERSON
Greg Anderson (b. Melbourne, 12 Oct. 1950) was a "one-hit wonder" in terms of pop chart success, but he was born into show business and he has been performing for most of his life. His parents had a whip-cracking act, and at fifteen months old the infant Greg was appearing with them on tour in England at venues like the London Palladium, and he regularly appeared with them as he grew up. At seven he took part in the Moomba Rodeo Festival as a trick rider and by the time he was ten years old Greg was appearing on major television shows and performing his own stage show for Coca Cola, which traveled throughout his home state of Victoria, after which he joined Channel Nine's "Tarax Show", where he performed weekly.

At 15, Greg gained national recognition by reaching the Grand Final of the prestigious television talent quest Showcase, which led to him being represented by top management agency NLT. By the mid-Sixties the multi-talented youngster -- who sang, danced and played guitar, piano and drums -- was a regular on the Melbourne pop circuit, making TV appearances and undertaking country tours. Some of his TV appearances were on the pop show Kommotion, and he recorded his first two singles for the short-lived Kommotion label.
Greg's debut single (Feb. 1966) is of particular interest to Bee Gees fanatics because it features uncredited backing by The Vince Maloney Sect (who also released one single of their own on Kommotion). The A-side of the single is a pounding cover of "I Feel Good"; this was not the James Brown classic, but a song written by the great Allen Toussaint under the pseudonym 'Naomi Neville'.

The best-known version is by The Artwoods, the '60s UK beat outfit led by Arthur Wood (brother of Faces/Rolling Stones guitarist Ronnie Wood), which also included future Deep Purple member Jon Lord. It's been assumed that Greg's version was a cover of The Artwoods', but if discography dates are correct, Greg's version actually preceded The Artwoods' by about six months; in fact the original version was recorded in 1965 by New Orleans singer Benny Spellman, best known for his version of "Fortune Teller".
Like so many Aussie covers of British and American tracks from this period, Greg's version is considered by many to be superior to the Artwoods' version and Vernon Joyson justly describes it as "a superb beat number with a great guitar riff". This very rare track was anthologised on the LP Diggin' For Gold, Vol. 5 and more recently on the fantastic bootleg CD compilation Pretty Ugly. Greg's second Kommotion single, "I've Been Unfaithful", was backed by a cover of Smokey Robinson's "Mickey's Monkey". It was not successful and it would be another three years before he returned to the studio.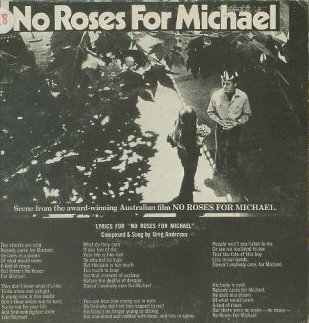 By 1970, Greg's music had taken a new direction and he had begun writing his own material. That year he was one of the Australian performers chosen to represent Australia at Expo '70 in Osaka. Later that year he scored his only national hit, the title track for the telemovie No Roses For Michael, one of the first local screen productions to address the rising problem of heroin addiction among young Australians.

"No Roses For Michael" (Festival, 1970), written by Greg and produced by Pat Aulton, gained a lot of airplay in late 1970 peaked at #21 at the end of October. It was followed by a self-titled album on Festival. Vernon Joyson (who clearly had little time for anything other than hard rock and psychedelia) was scathing in his assessment of the album:

" ... a soft and fluffy recording, sitting somewhere between easy listening and muzak and offering nothing for the rock purist. The songs are banal and predictable, the instrumentation mundane and Anderson's vocals and lyrics are at best commonplace, at their worst overwrought and pretentiously idealistic".

Greg recorded three more singles for Festival, one in 1971 and two in 1972, but evidently none of these made any impression on the charts. A curious feature of all three is that the A-side of his Dec. 1971 single, "It's Over", was evidently recycled as the B-side of both subsequent singles.

Noel McGrath's Encyclopedia notes that Anderson made a second LP called Harlequin, released in December 1973, but this may be a misunderstanding -- Joyson's discography lists this as a reissue of Anderson's debut LP, issued on the budget label Harlequin.

At 20, Greg married his childhood sweetheart Lynda Keane, who had been starring in Australia's longest running T.V. series

Bellbird

. They bought a property in Sydney, started their family and established a Quarter-horse stud. In 1975 Greg and Lynda established Gala Productions and from a modest single studio, the business grew to a 15,000 square feet, occupying a completely refurbished studio complex off Sydney's Broadway in 1990, which included audio and video recording facilities, theatrettes and management offices. Greg and Lynda also produced many successful televised and stage performances.

In 1980 the release of the Sydney Pollack movie

The Electric Horseman

took Greg back into equestrian performance. He was asked to appear at the film's Australian premiere, for which he created an elaborate costume with hundreds of lights on himself and his horse, and he then adopted the title of 'Australia's Electric Horseman'. Greg went on to win three "Country Entertainer of the Year" awards and in 1987 became

Variety

"Showman of the Year". In 1993 Greg's stage show "Electric Spectacular" won the prestigious Mo Award for "Production Show of the Year".

Greg appeared with Sammy Davis Jnr. at Variety's Heart awards and Davis encouraged Greg to try his luck in America. He was invited to appear at the International Variety Awards at Disney World in Florida in 1992, with his new horse Starstruck. They won a standing ovation, so Greg left Starstruck in Nashville and made preparations to return to the USA. In 1995 they opened Dolly Parton's Dixie Stampede Theatre in Branson Missouri, appearing daily in the 1000-seat Carriage Room for two very successful seasons and he also released his first U.S. album,

City Cowboy

.

Over the next few years Greg alternated between the USA and Australia. His US performances included the Variety International Awards at the Mirage Hotel in Las Vegas and a trip to Montana to perform with Wayne Newton. In 1999 Greg was engaged by Dolly Parton's Dixie Stampede to perform his one man one horse show at her Myrtle Beach, South Carolina theatre and he worked there for the next four years. When Dolly decided to open another Dixie Stampede Theatre in Orlando Florida, Greg and Starstruck were asked to open the new venue in June 2003.

Greg's most recent CD

Christmas For Cowboys and Inspirational Songs

, which features his favourite Christmas and Gospel songs, was recorded at Emerald Studios in Nashville using members of Reba McIntyre's band.

Discography

Singles

Feb. 1966 (Kommotion KK-1242)
"I Feel Good" (Naomi Neville) / "When It's All Over"

Nov. 1966 (Kommotion KK-1530)
"I've Been Unfaithful" / "Mickey's Monkey" (Robinson)

Oct. 1970 (Festival FK-3850)
"No Roses For Michael" (Anderson) / "Ned Kelly" (Anderson)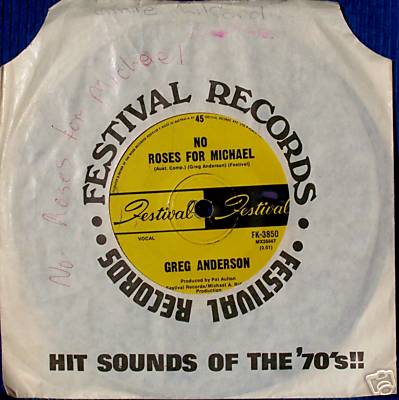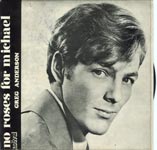 (Go-Set #21) Produced by Pat Aulton
Feb. 1971 (Festival FK-4128)
"Just Come Running To Me" / "Live For Life"
Dec. 1971 (Festival FK-4489)
"It's Over" / "Shame"
Oct. 1972 (Festival FK-4842)
"Somewhere Somewhere" / "It's Over"
Dec. 1972 (Festival FK-4890)
"Thank Your Lucky Star" / "It's Over"
Albums
1971
Greg Anderson (Festival L-25053) LP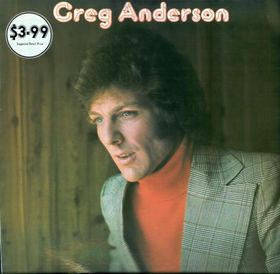 (tracklisting unavailable)


References / Links
Greg Anderson official website
http://www.australiaselectriccowboy.com/
Noel McGrath
Encyclopedia of Australian Rock (Outback Press, 1978)
Ian McFarlane
Australian Encyclopedia of Rock & Pop (Allen & Unwin, 1999)
Vernon Joyson
Dreams, Fantasies & Nightmares: Australia (Borderline Books, 1999)
Track notes for Pretty Ugly CD (In!! CDCD-1002)
(author unknown)
Go-Set Australian charts
http://www.poparchives.com.au/gosetcharts/1970/19701031.html

Bendigo Live
http://bendigolive.com/birthday/times_october12.htm
Rate Your Music - Greg Anderson
http://rateyourmusic.com/artist/greg_anderson
Gala Artists - Greg Anderson
http://www.galaartists.com/artists/greganderson/bio.html
Funky16Corners (blog)
"The Artwoods meet Solomon Burke and Benny Spellman"
http://funky16corners.blogspot.com/2006/05/artwoods-meet-solomon-burke-benny.html
Wikipedia - The Artwoods
http://en.wikipedia.org/wiki/The_Artwoods