The 69'ERS
Sydney 1969-74
Article by Terry Stacey
The 69'ers (The 69'ers Album lineup):
Francis Butler (guitar, vocals, harmonica, kazoo) 1969-76
Brian Bethall (bass,vocals) 1969-73
Keith Longman (drums, vocals) 1969-72

The 69'ers (Sunbury '73 lineup):
Francis Butler (guitar, vocals, harmonica, kazoo) 1969-76
Brian Bethall (guitar,vocals) 1969-73
Peter Knox (bass, vocals) 1972-73
Dave Ovendon (drums, vocals) 1972-73

Peter Knox's New Improved 69'ers (Apr. '73 to Oct 1973):
Peter Knox (guitar, bass, vocal)
Tony Burkys (guitar)
Brian Bethall (bass, guitar, vocals)
Dave Ovendon (drums, vocals)
Note: this group changed name to Omnibus in Oct. 1973, then to Locoweed in Nov. '73

The 69'ers (Sunbury '74 line up - April 1973 to Feb 74 - aka Francis Butlers 69'ers):
Francis Butler (guitar, vocals, harmonica, kazoo)
Ray Ferguson (guitar, vocals, flute, kazoo)
Terry Stacey (bass,kazoo,vocals) 1973-4
John (Ernie) McInerney (drums)

The 69'ers (final line-up Feb 1976):
Francis Butler (guitar, vocals, harmonica, kazoo)
Ian Cameron (guitar)
Tom Callaghan (drums)
Lindsay Osborne (bass)

Note: These are 'landmark' lineups. The 69'ers were renowned for their frequent and often brief changes of membership. For a more complete listing please refer to Chris Spencer's Who's Who of Australian Rock.
History
The 69'ers were a classic early Aussie "party" band. They played an eclectic, good-time mix of styles that combined rock'n'roll, country blues, vaudeville, jugband/kazoo/ washboard music and western swing. They had a humorous approach, albeit with a certain Australian slant, similar to contemporary overseas groups such as Bonzo Dog Doo Dah Band, Commander Cody & His Lost Planet Airmen and Panama Limited Jug Band.

LEFT: Cronulla Shopping Mall, Dec. 1973
(L-R) Peter Jarman; Terry Stacey (in red shirt) ; Ray Ferguson (rear)
Francis Butler (front) (Photo from Terry Stacey Archives)
There were several other Aussie acts playing a broadly similar musical style at the same time, notably Original Battersea Heroes, Stovepipe Spasm Band, Captain Matchbox, Moonshine Jug & String Band. But, in the words of Ian McFarlane, "... none seemed to capture the humour and downright silliness of the form in such a boisterous, zany and garrulous fashion". As the double-entendre of the band's name implies, they were also not afraid to "work blue" when the need arose.
The 69'ers were a very popular live act, but like most Aussie groups of the period they were woefully under-recorded, with only one studio album, one live album and five Singles to their credit in seven years. They made well-received appearances at two successive Sunbury Festivals, but an acrimonious Blackfeather-style split in early 1973 resulted in two rival versions of the group playing in competition for much of that year. In the event, 69'ers founder Francis Butler won the day to continue with his leadegsubip until early 1976 ... although their good-humoured party spirit certainly lived on in later groups like Hokum Ensemble and of course The Zarsoff Brothers.
The 69'ers originated in Sydney in 1969 (yes really! 1969, where else would the name come from?). Originally an acoustic jug band, founding member Francis Butler (lead vocals, guitar, harmonica, kazoo) had previously been in a group with some friends called Lepers Profound for about a year. He teamed up with bassist Alex Smith (later of rock band Bullett) and washboard player Malcolm Billdream. Sometime after this they were joined by guitarist Graham Cooper.
The band first came to prominence when they gained a placing in a band contest in mid-1969 called the "New Sounds of '69" by Martin Erdman, who ran the World of Sound recording studio. By this time the band had acquired Paul Wyld(e) on keyboard. Paul would later join Blackfeather where he was responsible for the boogie piano work on their single Boppin' the Blues.
Shortly after this they released their debut single, "On the Road Again" / "Cup of Tea Take Three" for Martin Erdman's Du Monde label. ("On The Road Again" was an Even Dozen Jug Band song, not the Canned Heat song of the same name!)
By 1970 they were a trio, with Francis Butler, Brian Bethell (bass, guitar, vocals) and Keith Longman (drums,vocals) and with this line-up the band became a popular attraction in and around the Sydney, in particular gaining a large cult following playing in the 1066 Wine Bar in the Sydney northern beach side suburb of Collaroy.
A year later, they issued a second single, "Morning Blues" / "Push Bike Hood" (December 1971), which was lifted from their debut album for Du Monde, The 69'ers Album. The album, produced by Martin Erdman, included four band originals and a diverse range of covers, mostly stage favourites including The Kinks' "Harry Rag", The Louvin Brothers classic "The Christian Life" (made famous by Gram Parsons and The Byrds), Ewan MacColl's "Dirty Old Town" (later famously covered by The Pogues) and Willis and Dunn's washboard classic "Sadie Green (The Vamp of New Orleans)", a song originally recorded way back in 1926 by Delhia & Gene Collins. The 69'ers album included session contributions from later members Peter Knox and Dave Ovendon, well known visiting US country session player Buddy Emmons (steel guitar), jazz veteran Col Nolan (piano) and Keith Harris (banjo).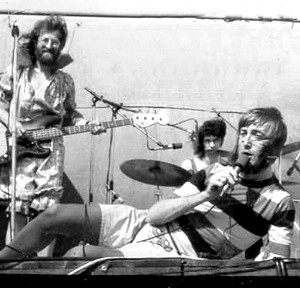 RIGHT: The Amco Supegsubow, Liverpool Speedway, 9 Dec 1973 (l-r) Terry Stacey, Peter Jarman, Francis Butler (Photo by Philip Morris)
The 69'ers were influenced by bands such as Jim Kweskin Jug Band, Memphis Jug Band, Panama Limited Jug Band, John Sebastian/Lovin' Spoonful, The Byrds and Bob Dylan. They did songs that originated in the 1920's & 30's, with titles such as "38 Plug", "Beedle-Um-Bum", "Jug Band Music" and "Coney Island Washboard". Their style was jug band/country influenced although later in their career they became more rock orientated.Unlike other bands of the era there were no long guitar solos for them -- four part harmony kazoo solos were the norm for the "Sixo's", as they were affectionately known.This style of music leant itself ideally to an outrageous stage act which featured satirical jokes, gags and double innuendos and dressing up in all kinds of strange outfits such as superman uniforms, baseball gear, boiler suits, turn-of-the-century bathing gear and even hat & tails evening gear (bought at St Vinnies of course!). This was at a time when it was not cool for bands to dress up on stage (jeans & coloured t-shirts were, for many, the usual stage attire). The band also took great delight in making fun of the rock music industry itself. They were variously described at times as having the crude humor and musical style of Mungo Jerry (they were doing it well before them!) and the dress style of Jethro Tull.
In 1971 Peter Knox (bass) joined The 69'ers as a full-time member. Knox was already a veteran of inner city Sydney bands such as The Wright Group, Red McKelvies Third Union Band, Quill and Original Batterea Heroes. Peter, with his trademark long black hair and Frank Zappa-ish looks, had a sense of crude, crazy humor that ideally suited the band and he and Francis made the ideal team as foils for each other out front.
Notwithstanding their reputation and ability to entertain in the local Sydney pub & wine bar scene, the band had by this time gained a reputation for there ability to entertain the large crowds of the large open air rock festival appearing at the Odyssey festival at Wallacia (near Sydney) in Januaryand at the Bungool Festival of Music, Sydney which was held over the 1972-1973 New Year weekend. The 69'ers began to make themselves de rigeur for rock festivals, as well as touring to Melbourne frequently, where they worked the dance, pub and disco circuit, and to Adelaide and Perth.
"Harry Rag" / "Happiness is Just for Me" was issued as the band's third single in August 1972 (once again taken from the album). By this time Dave Ovendon(drums) had joined and, with Brian Bethell rejoining on lead guitar, a four piece 69'ers line-up of Butler, Bethell, Knox and Ovendon played a rollicking set at the second annual Sunbury festival (January 1973). The crowds loved their closing song, "Harry Rag", which had become their trade mark song. Indeed by this time, wherever the band played someone would always yell out "Play Harry Rag!". The live rendition of "Harry Rag" appeared on the triple live set The Great Australian Rock Festival Sunbury 1973 (April 1973) issued by Mushroom. Festival also issued a re-recorded version of "Harry Rag" (recorded with the latter line-up by John French at TCS Studios, Melbourne) as a maxi-single later that month, backed with "Blood Flash" and "Rag Mama" on the Festival label.
The band, described as the Clown Princes of Sunbury, gained a certain notoriety when the Melbourne Truth newspaper ran an article entitled "Are they obscene?" with a competition asking if readers thought they were.This followed a press report that whilst performing at a "Labor Day Down Under Rock" concert at Melbourne Showground, Peter Knox had invited any girls who wished to come around to their caravan backstage whilst they were performing to, er, well, perform.
In April, just as the new single of "Harry Rag" was released, Bethell, Knox and Ovendon acrimoniously sacked Butler from his own band. Renamed as "Peter Knox's New Improved 69ers", Bethall, Knox and Ovendon recruited guitarist Tony Burkys (ex Original Battersea Heroes). The new Knox-led 69'ers recorded two songs for a prospective single, a cover of "Freakin' at the Freaker's Ball", a song by Shel Silverstein. which was to have been coupled with a group original, "Sailing Ship", but the single was never released.
Francis Butler, as founder of the band and only original member, was, not surprisingly, upset about his sacking. He publicly announced that it was his name and that he was forming a new 69'ers. Threats of legal action flew back and forth, all eagerly published by Australia's national rock music magazine Go-Set.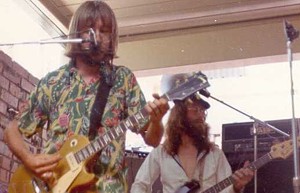 Queen Victoria Hospital, Melbourne in Dec 1973
with Francis Butler crooning "I'm Confessin"
(Photo by Cedric)
Butler responded by forming a rival band, which initially operated under the name of Francis Butler's Original 69'ers with Ray Ferguson (guitar, vocals, flute, kazoo; ex-Samael Lilith), Terry Stacey (bass, vocals, kazoo; ex-Wildwood, Afrika) and Peter Jarman (drums; ex UK Flowerpot Men, Denny Laine) (founding member Alex Smith had rejoined briefly on bass). In November 1973 respected drummer John `Ernie' McInerney (ex Foreday Riders, Company Caine) replaced Jarman.
The two bands, whilst retaining there image for crazy humor, diversifed in styles. Francis' version stuck more to their original jug-band style with more country & rock influences such as Spirit's "Darling If", and Willie Dixons "I'm Ready", John Sebastian's "Let The Boy Rock And Roll" and in a serious vein The Byrds "He was a friend of mine" (in which Francis was able to utilise the chiming sounds of his Rickenbacker 12-string guitar) plus lots of originals, many written by Francis, who was a prolific songwriter although his recorded output did not reflect it.
Peter's version, under the influence of Tony Burkys, went for a more jazz-orientated style doing revivals of 1920s-50s songs such as The Mills Brothers "Up The Lazy River", The Ink Spots, Louis Armstrong & Django Reinhardt jazz classics.
By October 1973 the Francis Butler line-up had reverted to the name of just The 69'ers, while Peter Knox's 69'ers had changed their name to Omnibus, then a month later again to Locoweed, but Knox's band proved shortlived, breaking up in early 1974.
So it was that in January 1974, it was a one and only 69'ers, led by Francis Butler with Ferguson, Stacey & McInerney that performed at Sunbury '74, determined to retain their title of the clown princes of that festival. Francis took his antics of taking the show to the audience to the limit by heading out into the 30,000 strong crowd to croon "I'm Confessin' (That I Love You)" personally to the punters at the end of a 100 metre mike cord.Once again they wowed the crowd and were given encore after encore, including, of course, the obligatory "Harry Rag" and to climax their act they had organised something special for Sunbury -- a cream pie fight.All and sundry were splattered -- roadies, sound crew, compere Molly Meldrum and of course, The 69'ers themselves.All in good fun, of course!
Around this time the 69'ers second album, a live one, called Francis Butler's 69'ers Live, was released on the Infinity label (Cat # L25096).This was actually recorded at Sunbury '73 with the Butler, Knox, Bethell and Ovenden lineup but had only Francis photo on the cover and no lineup credits. Of course it had "Harry Rag" on it again! All in all "Harry Rag" was released on vinyl 6 times in three versions, including one on a Du Monde compilation album. Unfortunately this did not help it sell any more copies or ensure any chart success and they always remained a popular "cult" following band. Nevertheless both their Albums provide a good example their repertoire.
Shortly after their success at Sunbury, Terry Stacey left, to be immediately replaced by, wait for it ... Peter Knox!. However Peter was only to last for three months.
The band issued its last single, "Flash" / "Back Seat Drivin' " on the independent Earth label that year. In the latter part of 1974 through 1975 the band seemed to fade from the limelight although still working regularly around Sydney and doing country NSW gigs. In Dec 1975, some "friends" of the band ripped them off by doing jobs in the bands truck on the side and running up costly petrol bills at the band's expense; their roadie died in a fire in Kings Cross and the band's rented truck was seriously damaged to the tune of $1000 worth of damage. The lineup by then was Francis, Ian Cameron (guitar), Tom Callaghan (drums) and Lindsay Osborne (bass). Following this, Francis decided to lay the band, which by then had become something of an institution, to rest in February 1976.
After The 69'ers ...
Francis Butler went on to issue an album of religious songs, There is No Escape. He moved to the United States and became a minister of religion
In 1977, Peter Knox formed Toons with Ian Willis (guitar) and Gavin Hodel (drums) before taking the stage name Izzy Foreal and forming the perennial Fabulous Zarsoff Brothers.
Brian Bethell and Dave Ovendon teamed up, with Red McKelvie, as the rythmn section with Richard Clapton's backing band and played on his classic single "Girls on the Avenue". Brian went on in the 1980's to play with noted UK band Blow Monkeys.
Dave "The Bloke" Ovendon, playing mandolin, went on to become a long time member of Bullamakanka who recorded the classic bush song Home Among The Gum Trees. He recently rook part in the reunion of his former band Southern Comfort, with Andy Anderson, Bobbi Marchini, John. A Bird,
Keith Longman has continued to play in '50's revival bands such as The Cadillacs, 78RPM, Ol '55 and in country bands such as Grand Junction and Buckshot. He still has an 'L' plate on his drumkit
Tony Burkys went on to play with Uncle Bobs Band & Captain Matchbox Whoopee Band
Terry Stacey has continued his musical career in bands to the present day, and wrote the definitive account of the History of the Hoadley's Battle of the Sounds contest, which is available from Moonlight Publishing. He also has a studio band Terry & The Woodworms (aka The Woodworms) of which some tracks can be accessed on the internet at www.mp3.com.au/Terry&TheWoodworms and www.mp3.com.au/thewoodworms
Discography
Singles
1970
"On the Road Again" / "Cup of Tea, Take Three" (Du Monde/Festival DMS 304)
Dec. 1971
"Morning Blues" / "Push Bike Hood" (Du Monde/Festival DMK 4452)
Aug. 1972
"Harry Rag" / "Happiness is Just for Me" (Du Monde/Festival DMK 4794)
Apr. 1973
"Harry Rag" / "Blood Flash", "Rag Mama" (Festival FK 5083)
1974
"Flash" / "Back Seat Drivin' " (Earth)
Albums
Dec. 1971
The 69'ers Album
(Du Monde SDML-934383)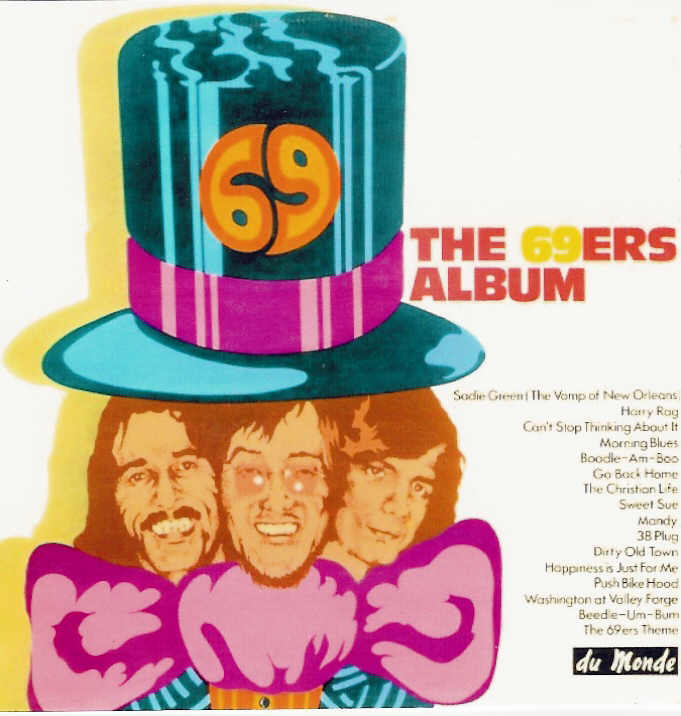 Side One:
1. "Sadie Green (The Vamp of New Orleans)" (Wills-Dunn)
2. "Harry Rag" (R & D Davies)
3. "Can't Stop Thinking About It" (Tunbridge)
4. "Morning Blues" (Macon-Simon)
5. "Boodle-Am-Boo" (Uncredited)
6. "Go Back Home" (Butler)
7. "The Christian Life" (I. Louvin-C. Louvin)
8. "Sweet Sue" (Young-Harris)
Side Two:
1. "Mandy" (Berlin)
2. "38 Plug" (Uncredited)
3. "Dirty Old Town (McColl)
4. "Happiness is Just for Me" (Butler)
5. "Push Bike Hood" (Butler-Bethell)
6. "Washington at Valley Forge" (Yallen-Ager)
7. "Beedle-Um-Bum (Uncredited)
8. "The 69'ers Theme" (Butler)

Produced by Martin Erdman at World of Sound Studios, Sydney
---
Apr. 1973
The Great Australian Rock Festival Sunbury 1973 (Mushroom/Festival)
- one track only - "Harry Rag" (R & D. Davies)
Jan. 1974
Francis Butler 69'ers Live (Infinity L25096)
Side One:
1. "Round and Round" (Panama Jug Band)
2. "Let The Boy Rock and Roll" (Sebastian-Butler)
3. "Hello Hello" (MacNeil-Kreemer)
4. "Lovin' You" (Sebastian)
5. "The Mighty Quinn" (Bob Dylan)
Side Two:
1. "Jug Band Music" (Trad arr. Francis Butler)
2. "You Ain't Goin' Nowhere" (Bob Dylan)
3. "Sarah Jane" (T.Garrett-J.Fuller)
4. "Harry Rag" (R. & D. Davies)
---
Francis Butler solo:
1978
There is No Escape (Rhema)
(no tracklisting available)
The 69'ers on CD
There have been, to my knowledge, only two 69'ers tracks released on CD:
- "Harry Rag" on The Great Australian Rock Festival Sunbury, 1973CD
- "On The Road Again" on So You Want to be A Rock 'n Roll Star(Spin-Festival) CD version only
References / Links
Go-Set magazine
courtesy Mitchell Library,Sydney
RAM Magazine
courtesy Mitchell Library,Sydney
Chris Spencer
An Australian Rock Discography
Ian McFarlane
Encyclopedia of Australian Rock & Pop (Allen & Unwin, 1999)
Written by Terry Stacey, except for extracts from the Ian McFarlane Encyclopedia
Copyright ©Terry Stacey 2002